The Brake Shield is a simple solution from Eat My Dirt to keep grime and cleaning products away from the bits of your bike you don't want them to get to while cleaning your drivetrain.
Whilst it's called a shield that's a bit of a grandiose title, because the reality is it's essentially a baby's bib - the stuff you don't want dribbles down and finds its way into a trough at the bottom. The trough, in case you're wondering, holds approximately 100ml of liquid. Whilst this doesn't sound like a lot, I found it to be more than adequate.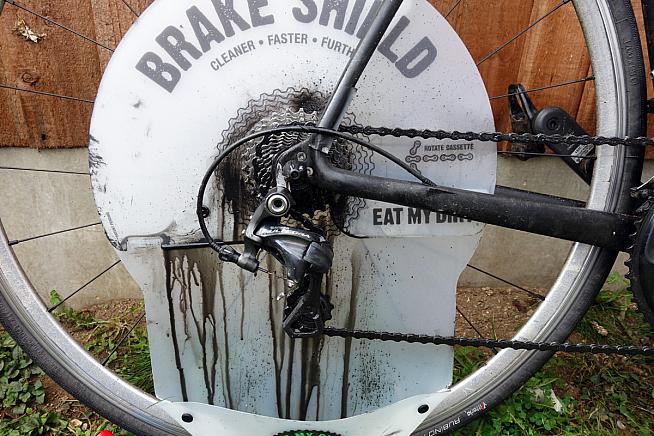 The packaging directs you to an instructional video on YouTube that shows how to use your Brake Shield. You hook the back panel onto a spoke to hold it in place, then rotate the front panel which has a cut-out over the freehub so it hugs the area behind your cassette, creating a flat panel behind the drivetrain. It's easier than it sounds.
You then carry out your cleaning whilst rotating the cranks backwards and watch a filthy black mess run down into the trough ready to be disposed of later on. It's a simple product and works as you'd expect, ensuring the bits you want to keep clean stay clean.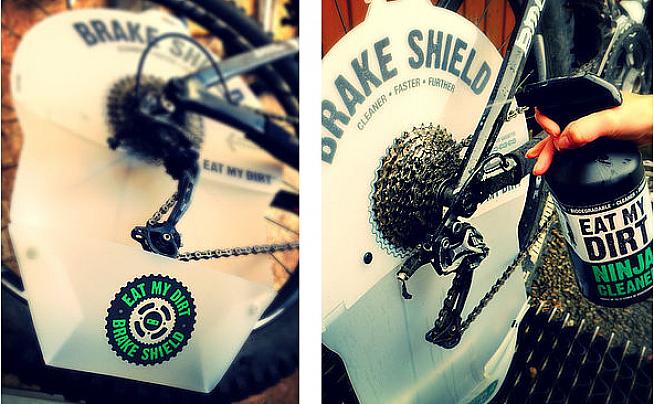 As the name suggests, it's primarily designed with disc brakes in mind - the position of rotors next to the cassette makes them particularly vulnerable to collecting gunk during cleaning. But there are benefits for rim brake users too, especially if you're cleaning your bike indoors where walls and floor covered in oily soup could spell trouble.
Brake Shield is one of those simple products that not a lot can go wrong with, but I recommend putting your chain somewhere in the middle of the cassette as I found being in the smallest cog meant some of what dripped off overshot the edge of the trough slightly. It's also important to make sure your chain is fully engaged in the cassette before you rotate the cranks. If the chain isn't quite set then you'll have to start over, since any forward movement of the wheel will cause the Brake Shield to move with the wheel and end up mangled.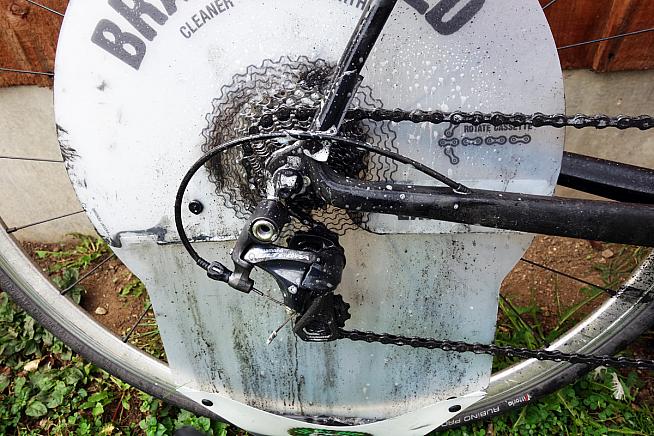 After use I'd recommend hanging up the Brake Shield; it doesn't really have the strength to stand up on its own, and you'll want any sediment residing in the trough to stay in place and congeal. Hanging it also gives you a handy place to store that messy brush. Although the plastic used is on the flimsy side (which is necessary to manoeuvre it into place between spokes and cassette), handled and stored with a little care it should last a long time.
Generally I only clean my drivetrain when the whole bike is dirty - it's a weekend chore, and I usually put it off until I've got a couple of bikes that need attention. This is of course far from optimal in terms of drivetrain longevity. The Brake Shield is ideal because you can give everything a blast immediately post-ride, leaving it to drain off then come back later to re-lube.
With winter, that well known destroyer of drivetrains approaching, it's a product that will definitely get a lot of use.
The Brake Shield retails at £15 - www.eatmydirt.eu
0 Comments