As August turns to September and cyclists start to philosophise on the impending seasonal change, Big Tim's Big Day Out is a fitting ray of light to remember another season passed of great rides with family and friends.
Three routes bring riders through the Ashdown Forest, taking in a few challenges along the way. Event organisation was fantastic (the sun even complied, making an appearance for the whole day) and it was such a treat to cross the finish and enjoy a beer, burger and live music.
Big Tim's Big Day Out (BTBDO) is a sportive in memory of Tim Stevens. A man who needs little introduction to southeast cyclists of recent decades, Tim was a passionate cyclist who put cycling ahead of everything, except his family.
He loved hills, ate them for breakfast, lunch and dinner. In 2013, to thank the Royal Marsden for the superb treatment given to his wife, Jenni, while undergoing cancer treatment he raised money by smashing Box Hill.
Unfortunately, Tim lost his battle with the same disease on August 30th, 2016. Now, Jenni and family have taken up Tim's cause to fight cancer the best way he knew how, cycling.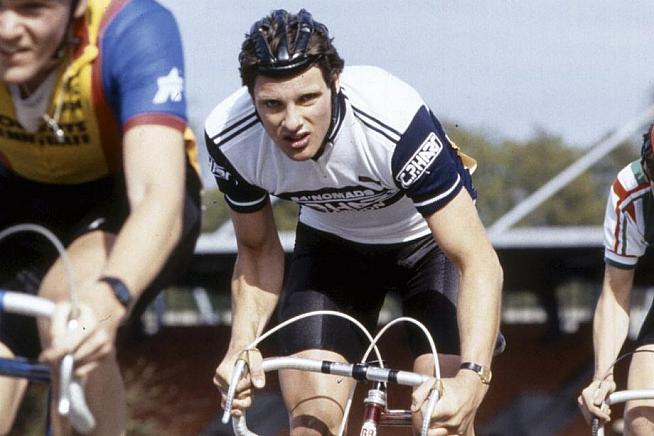 BTBDO has three route choices - the Grande 90 km (55.9 miles) with 1,044 metres climbing, the Cortado 50 km (31 miles) with 712 metres and the Espresso Family Ride 15 km (9.3 miles). Routes were plotted by none other than the legendary sadist, Sean Yates, who, it must be said, also loves a hill.
On-the-day registration was well organised. The ride started and ended at the South of England Showground in Ardingly, so there's plenty of parking and toilets - and even showers - available. There was also a bag drop. The organisers did have a few additional stipulations on top of the standards: normal cycling apparel, preferably not team kit! (unless you really are in the team!) Mad socks, these are always a must!
It was quite a treat to see all the people out, clearly not all roadies as there were a few MTB/hybrid bikes on view!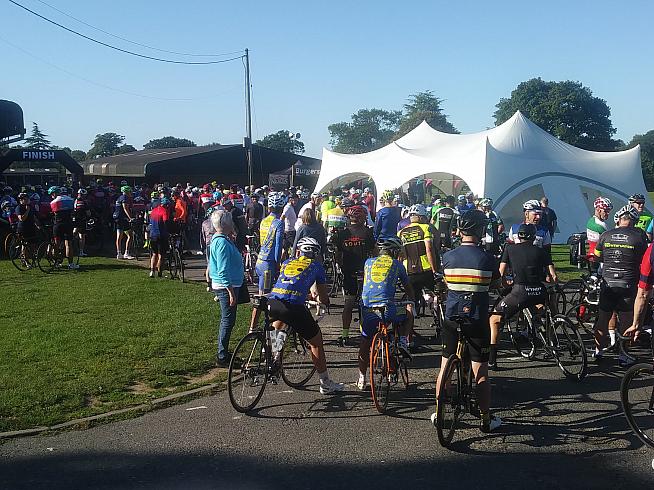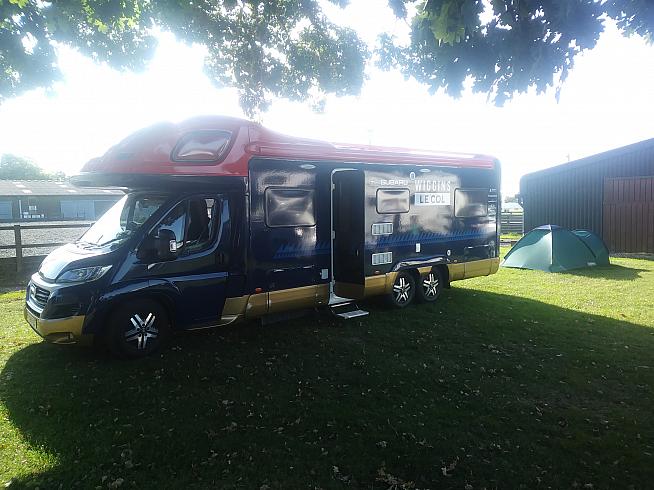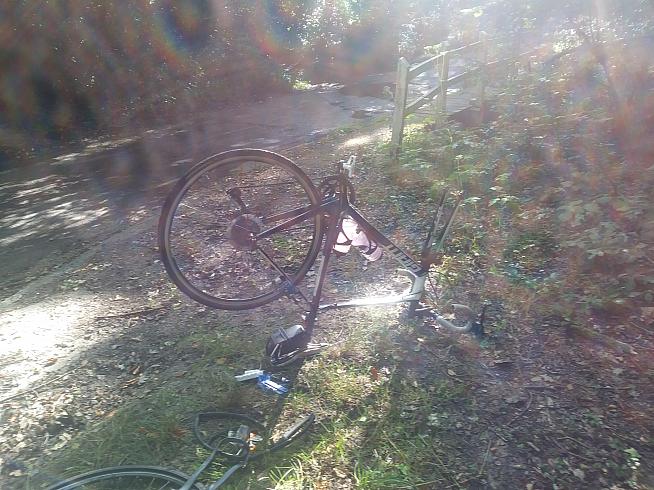 I had a puncture quite early on, about 7 miles in at the bottom of a descent I hit a pothole. Most riders passed me as I mended it. Back on the road, I was able to move through riders easily enough. There was no pain train and even clubs like Oxted CC, who I have paid a painful fare to get on their train at other events, were just out for a pootle. But, moving through the groups gave me the chance to chat to people. A few riders I spoke with had known Tim. It was special to see the man being remembered.
Of course, it was still a bike ride and so commentary must be given on that. Struggling up the beloved local Box Hill a young lad, probably no older than 12, was thrashing it! He had clearly bought his wattage bazooka at the wattage cottage collecting extra watts along the way! Such an impressive sight to see the little chap drop riders!
The event was really well marshalled and signposted. Signs indicating turns were prominent and easy to follow. Ticker tape was tied into hedgerows. And, where turns were easy to miss there were friendly marshals directing, cheering and smiling to all.
Coming into the last climb - the notorious Cob Lane - and there were three walkers on the side of the road. One of them called out, 'I'd like to tell you you're almost near the top, but you're not!'
That made me laugh, until I realised the truth of it. The fiercest climb was saved for the last, and less than one mile from the end Cob Lane kicked up to a lung-exploding 16% gradient. Again, Sean Yates is a sadist.
Back at headquarters, local cycling staples, MamaC and BeerMe, were on hand to replenish energy levels and provide a splash of delicious bevvies.
As I was queuing for my burger the Straw Dogs Irish Band kicked out the jams with a great rendition of 'Whiskey in the Jar'. There are not many cycling events that turn into open air concerts! It was a great way of finishing up the ride - a beer, burger, some live music while sitting in the grass with the sun shining down.
As I was leaving, the band were taking a small break, but, no doubt, they came back and had everyone (who could still stand) kicking up their heels while enjoying the sunshine and toasting the memory of Big Tim.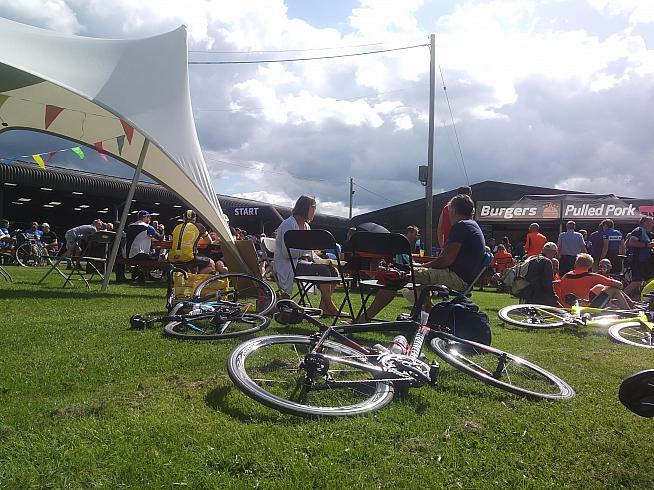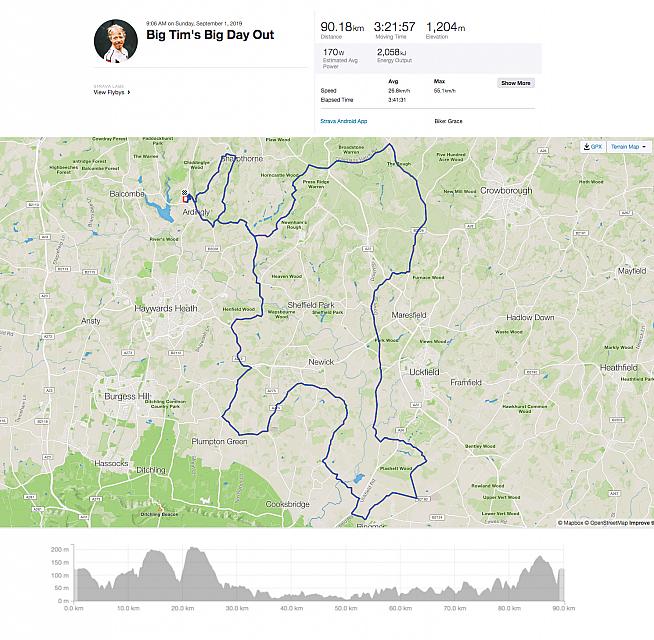 Big Tim's Big Day Out is a must for every cyclist in the southeast. If you're not close enough to take part in the ride, you can always acknowledge Big Tim's big heart by making a donation to The Royal Marsden.
Not only is Big Tim's Big Day Out a great spin, it's a great family-oriented day with a big heart behind it.
www.justgiving.com/fundraising/inmemoryoftimstevens
0 Comments