The 2016 Saddleback Sodbury sportive provided a free pasty to every participant. However, "free" was a relative term as everyone was asked to fill out a questionnaire before receiving their food. Thankfully there was only one question - "Same course next year, or something different?"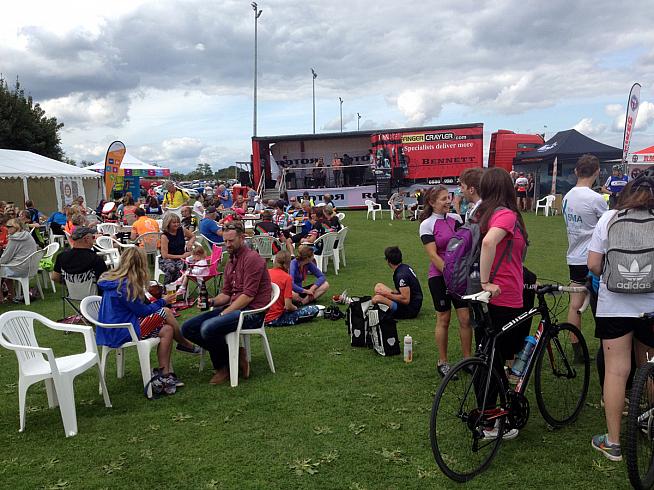 I had speculated at the time as to whether there would be as much return business if the organisers, Chipping Sodbury Rotary Club, went with the same route. I believe 2017 was the seventh year of the event and many may potentially have ticked it off their bucket list and moved on.
However, it was the same course for 2017 and there was an increase in numbers to over 1000 riders in total. I expect a lot of those who enter are repeat participants who enjoy a great day out in what is much more than just a sportive. The attention to detail, slick organisation, and friendly atmosphere would appear to keep bringing people back to the event year after year. On top of all that, the sportive raised over £25,000 for charity last year.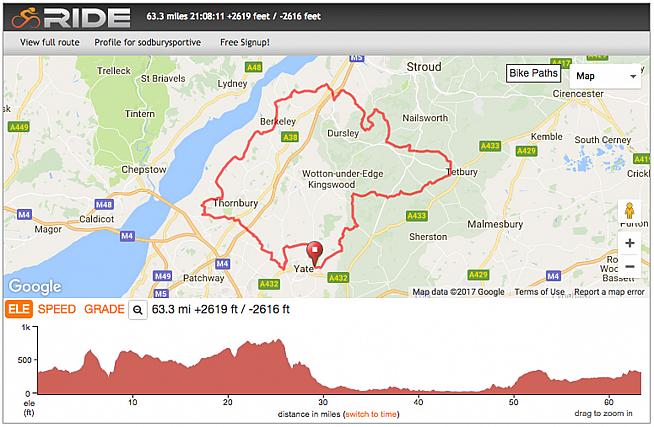 There are three courses of 30, 60 and 100 miles with advance entry set at £29 for the two longer courses and £19 for the 30 miler. Entry fees rise by £5 on the day. I continued my self-styled "lanterne rouge" policy to sportive entry. This strategy involves maximising sleep time and timing my run to the start line so that I just make it before the cut-off. I was entered for the 60 mile course for the second year in succession.
Registration opened at 7am with first riders off for the two longer courses from 8am. I rolled up to Chipping Sodbury rugby club around 8.30am and as usual parking was a breeze, with what looked like the local Army cadets doing the stewarding and plenty of room on the rugby field.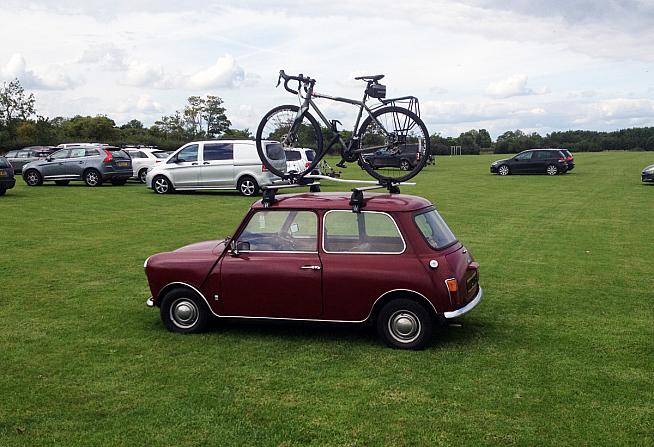 The positives of a late arrival were that there was no queue at registration to pick up my handlebar number and cable ties. The attention to detail is such that there was also a pair of pliers on a string to trim the cable ties to ensure that wind resistance was minimised. There was also no queue for the rugby club toilets. A BBQ was already on the go doing breakfast baps, although I did not partake, and there were plenty of scaffolding poles set up as bike stands.
My start line strategy then began to unravel slightly as I had forgotten that there was always a snaking queue for the start. The clock was ticking towards the 9am cut off start time for the 100 and 60 mile route. The 30 miles were being sent off between 9-9.30am. I seemed to be some way from the front and there was no way to tell if I was in a queue with other 60 milers or those doing the shorter distance.
Thankfully, the organisers came to my rescue again as a Rotary Club member shouted "Any more 60 milers?" I stuck my hand up and was immediately plucked from the queue and allowed to advance to one of the two adjacent start pens. They brief one pen whilst filling up the other which helps with getting everyone on the course.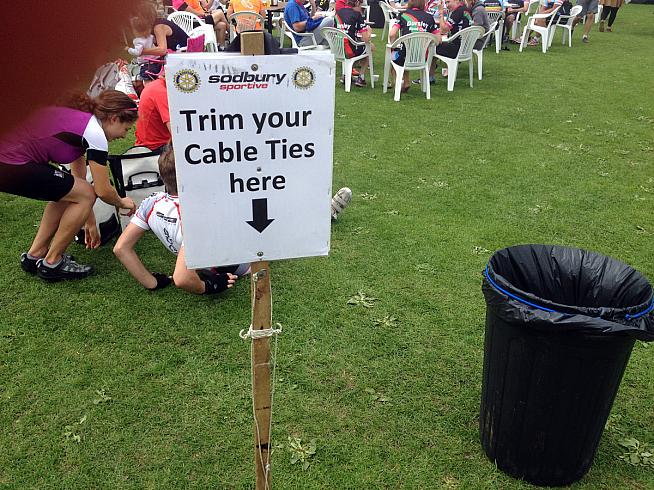 A ride manual had been available before the event online and there was a short verbal briefing to back that up. We were then off and it was about a hundred metres to the first roundabout. There were more stewards there checking it was only riders for the longer routes although it didn't delay anyone. There were a group of three 30 milers who had gone too soon and so pulled up. I'm guessing that the first part of the short course was different.
The weather was dry and warm with an average 19 centigrade temperature. The first part of the ride goes across Sodbury Common. There were over 700 signs on the route so the directions were never an issue. I used my GPS route download from the previous year without a problem. The route was predominantly country lanes, some of which were wide with good surfaces whilst other were narrow and potholed. Again the attention to detail was clear as some poor sod - pun intended - had taken on the job of marking every major pothole on the course with a ring of fluorescent yellow spray paint. Very helpful for the riders, but I would think a back-breaking task. There were also the trademark yellow spray-painted bicycles by the side of the road at various points on the course.
The major climbs come at the front end of the course and the two I vividly recall were short but steep. They are announced with a sign stating "Hawkesbury Howler" or similar along with length and maximum gradient. There were also other signs indicating when specific Strava segments started and finished. Gradients peaked at 15-16% but that was only for short distances.
After the shock of two steep hills the route became more undulating as it headed north before settling into an ever so slight rise for a sustained period that was almost imperceptible. My legs felt good at this point and I felt I was going well. There was then a fast downhill into Uley for the first of two feed stations. Unfortunately, someone appeared to have crashed badly on the descent and was being treated as I rode past.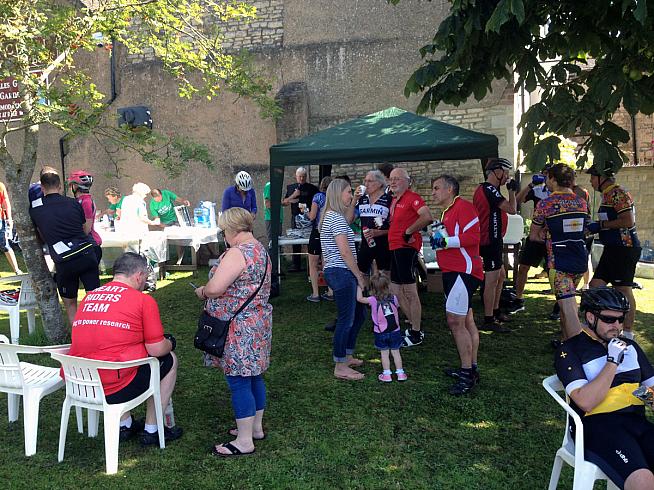 The feed station was at the side of the village pub which allowed use of its toilets. All of the food for the event was either donated or home made. There were all different flavours of sandwiches, bags of jelly babies, peanuts, cakes, chocolate bars and much more along with tea and coffee. A mechanic was also on hand for any running repairs.
After leaving the feed station the second half of the course headed out towards the Severn Estuary. There was a long section of the route which was at sea level and pan flat. It sounds easy but there is a mental element to cycling for miles and miles on the same terrain. No uphill effort required but no free-wheeling downhill, it was just keep pedalling and ticking off the miles. There was another flat Strava sprint section to break it up a bit.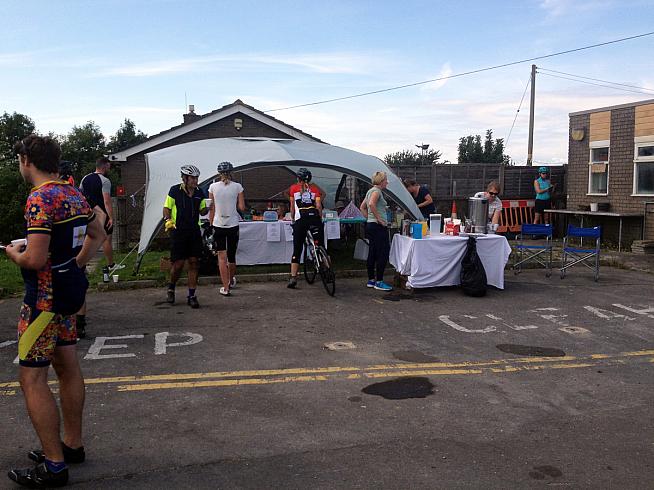 Finally, there was an uphill section to the second feed station just outside Thornbury. There was only one toilet available on site so there was a slight queue. However, there was the same extensive choice of foods. This included home made cake with all the ingredients listed including a gluten-free and lactose-free lemon drizzle.
The second food station was only nine miles from the finish. There was one more short climb through Yate Rocks before a final Strava sprint to the line. Every finisher is greeted by the clanging of an orchestra of cow bells which momentarily takes you off to the Alps.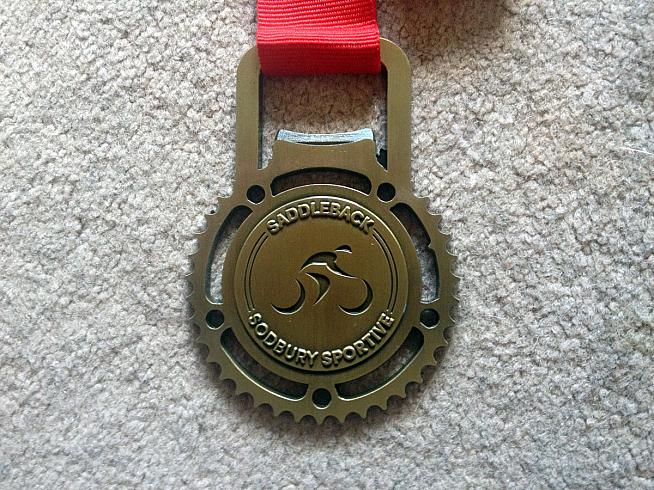 This sportive is real family day as there were lots of supporters and family members enjoying the lives bands, food stalls and bar or just playing with their children on the rugby fields. Massages were also available but after picking up my medal I headed for my pasty. No questionnaire this year, so it looks like the Rotary Club know what works and intend to stick with more of the same.
And why not? It is very much a winning formula.
0 Comments