I'm still not sure whether that was a good idea or not.
A couple of years ago, I completed the Hell of the Ashdown and vowed not to do it again. It's 65 miles of hilly misery, often on the most unseasonal day of a traditionally unseasonable time of year.
I've done several iterations of the Hell on, rather interestingly, a different bike every time. The overall feeling is of near catatonic exhaustion and, on one occasion, loss of feeling in the fingers of my right hand for nearly a week.
Last year I decided that I would train for the Brighton Half Marathon and have an excuse not to do it, and then they brought the date of the Hell forward. I still did the Half and enjoyed it more, mainly because the discomfort only lasted three hours.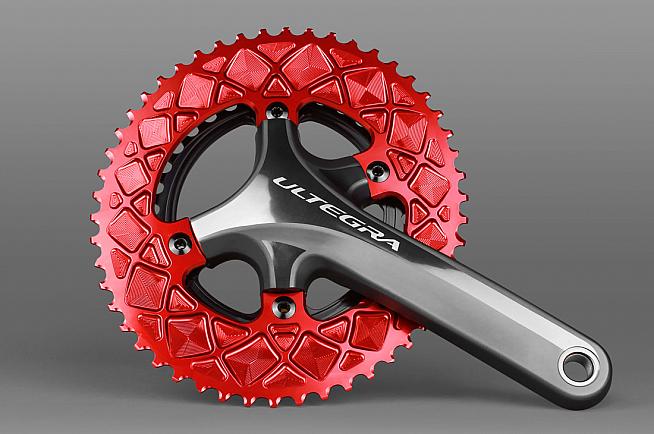 This year, however, I had a real chance of riding the HOTA and not feeling like I'd had my balls kicked through my brains at the end - for two reasons. Firstly, I have been actually training for the Etape du Tour this July, rather than just hit the ground stumbling like I had in previous years. And secondly, I had a secret weapon - one guaranteed to banish all pain on hills. Ovalised chainrings from Absoluteblack...
OK, so maybe I believed the elliptical hype a bit too much - but I do have Q-Rings on my other bike, and firmly believe I could not have done the Yorkshire 199 without them. I never really felt they were working completely in tune with my pedalling, though.
Enter the new kids on the asymmetric block, Absoluteblack. To be fair, they've been leading the way in popularising ovalised chainrings for MTBers for a while, and have now applied their knowledge to the road discipline.
Why oval?
The first question you might ask is why choose elliptical chainrings over round in the first place? The basic idea is that oval chainrings reduce the 'dead spot' when pedalling - that point in the rotation when you're transmitting least force through the drivetrain.
Absoluteblack say: "(We) believe that using oval chainrings bring significant efficiency advantages to cyclists. Oval chainrings do not produce more power, they allow you to unleash your true potential.
"They achieve this by optimising the pedalling torque you generate, reducing your effort on the climbs and increasing your speed at the same time - so you can be faster and more efficient."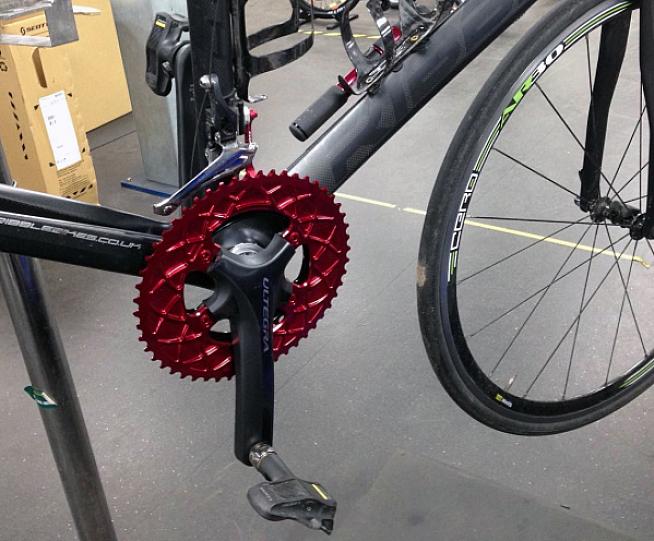 Absoluteblack's semi-solid road ovals come in a variety of compact, semi-compact and standard race ratios and a choice of three colours: red, black and silver. Each chainring is CNC-milled, and four- and five-arm options are offered to suit most SRAM and Shimano cranksets.
When the chance arose to give their Premium Oval chainrings a spin, I didn't have to be asked twice.
Having ridden (albeit accidentally through a rash chainset purchase) a semi-compact since last autumn, I decided to carry on manning up and ovalise to the same 52/36 ratio. The weedy, fat pigeon in me still pushes a 32T at the back, so while my ego gets a massage, my legs and lungs at least get a breather.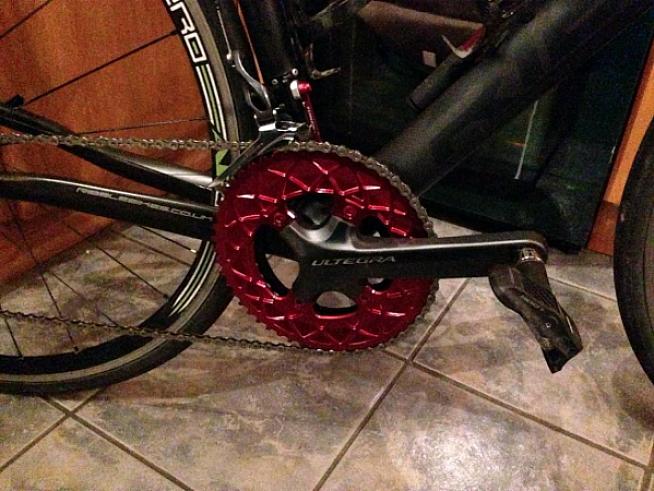 The rings are achingly easy to install. There is no way even a novice could misalign the four-arm version on Shimano cranks. There's even a handy direction arrow for the hard of thinking.
I fittedt the rings to my Ultegra crankset using standard chainring bolts. You can purchase bolt covers from Absoluteblack to make your cranks look closer to the Shimano originals, but there's no way these chainrings look in the least bit 'standard' so I didn't bother.
After a slight adjustment to the front mech hanger, the shifting from big ring to small was precise and rapid - much more so than the Q-Rings, whose action I'd grown to associate with a home-made marble bagatelle, getting there eventually but with much pinging and bouncing.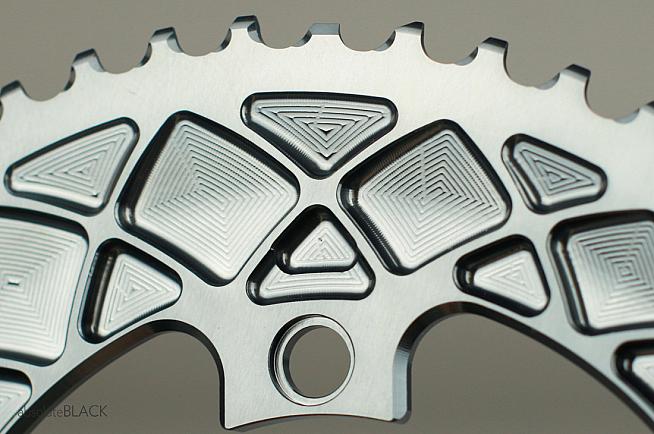 Absoluteblack make a point of stressing that the rings are designed to shift precisely, using a series of ramps and notches to guide the chain smoothly and accurately. Even under my not inconsiderable load, the changes were almost as quick as my cat isn't when making up her mind about going through a doorway. You can check out a little video I made of the shifting performance here (no cats, sorry).
Aside from the hypnotic undulation of the chain when viewed from the saddle, the main difference was, well, nothing. I found no quirkiness in the pedal stroke, no discernible change in my pedalling action at all.
Well, not at first.
The lack of anything spectacular is part of the change; the idea, delivered brilliantly, is to improve your pedal stroke, smoothing the way you deliver power to the rear cogs. Gone was the mashing I sometimes experienced when trying to increase my cadence. I noticed that I could accelerate on the flat, and on mild upward gradients, with ease. On the flat, the time between shifting up to a higher gear was reduced while it increased during uphill efforts, spending longer in a higher gear while climbing.
The Hell has a nasty 25% climb, Cudham Test Hill, in the first 2km, unilaterally hated by those with cold legs on cold, wet, slippery mornings. Thankfully with the benefit of a drier surface this year, I danced up the climb (think Ed Balls rather than Anton Du Beke) and barely stopped to cough out my lungs at the top.
Over the entire HotA course, the desire to quit was reduced to such an extent that at the end, despite crawling up Hogstrough Hill at the 100km mark, I only briefly considered chucking my bike in a skip and giving up cycling.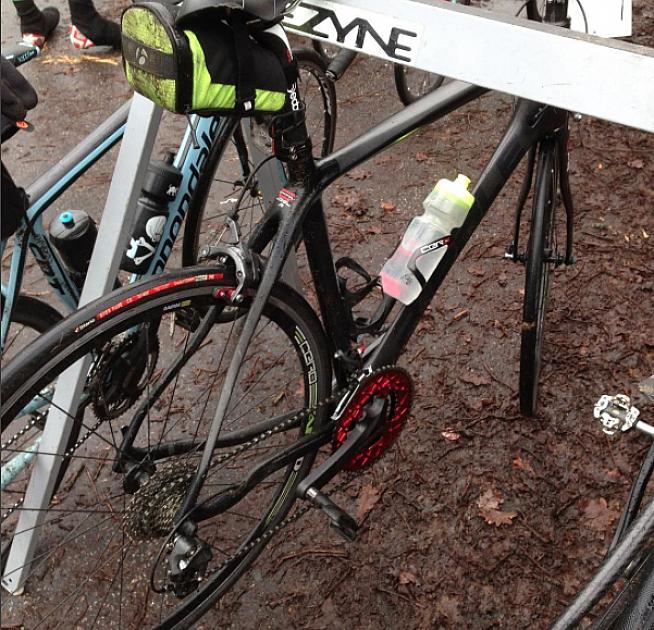 Absoluteblack's Oval rings won't make you climb like Quintana, but if you look at hills like they're a poop sandwich, then they sugar the filling somewhat. And they look fabulous, especially in red.
If you're in two minds about making the switch, Absoluteblack suggest starting by replacing just the inner chainring with an Oval. You should feel the benefits in your hill climbing. But, If you don't get on with the elliptical shape, Absoluteblack offer a 30-day trial period in which they'll exchange Oval rings for round.
The Oval shape is also supposed to reduce muscle fatigue. In the post-ride DOMS fug of Monday morning, I noticed that my legs ached in different places, rather than just when climbing the stairs. The smooth, all-round action had kicked into service muscles that normally just go along for the ride.
Hopefully this means I'm working more efficiently - and that also means I can reward myself at the cafe stop. Maybe these Absoluteblack chainrings really do let you have your cake and eat it.
Absoluteblack Premium Oval Chainrings, 52/36 Semi-compact from £127.50 at absoluteblack.cc.
0 Comments