There will be no 22mph speed limit on this year's RideLondon sportive, organisers have clarified.
Concerns arose over the weekend when the event guide issued to riders appeared to suggest a 22mph speed limit would be enforced by a safety car driving at the head of the event.
Entrants took to social media to complain, pointing out that faster riders would expect to complete the course at an average speed in excess of 25mph.
However, organisers London Marathon Events have now confirmed that the event guide was in error.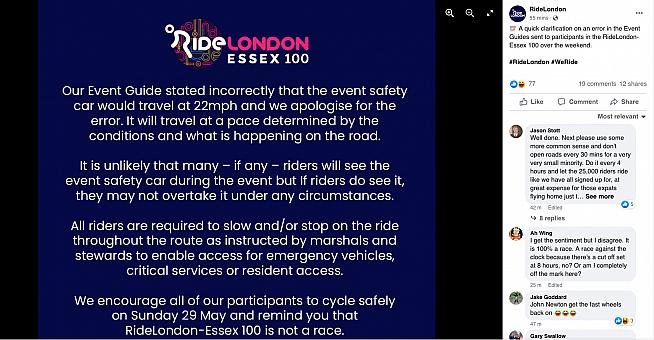 "Our Event Guide stated incorrectly that the event safety car would travel at 22mph and we apologise for the error," said a statement published today on RideLondon's Facebook page.
"It will travel at a pace determined by the conditions and what is happening on the road.
"It is unlikely that many - if any - riders will see the event safety car during the event but if riders do see it, they may not overtake it under any circumstances.
"We encourage all of our participants to cycle safely on Sunday 29 May and remind you that RideLondon-Essex 100 is not a race."
And so common sense prevails.
Or, as one Facebook comment puts it, "Time to get the fast wheels back on!"
0 Comments