Allez! Allez! Allez! - a new card game for cyclists, which is a mash-up of Top Trumps and Fantasy Cycling - goes on sale this week.
The game is the latest from the team at Brainy Bikers, who are (disclosure alert) good friends and contributors to Sportive.com.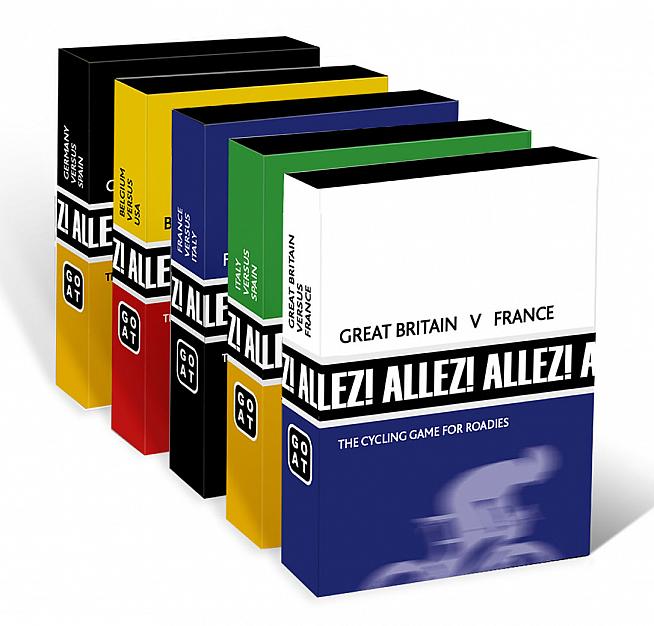 Peter Levenspiel, creator of Allez! Allez! Allez!, describes the game as "an old-school card game that pits cyclists from one nation against another, in much the same way that the Tour de France was once competed between national teams rather than trade teams."
The game taps into cyclists' notorious obsession with data - whether it's miles ridden, calories burned or watts per kilo - to create a unique card game which pits legendary cyclists from the world's greatest cycling nations against each other.
Each pack of Allez! Allez! Allez! cards is packed full of statistics on 40 of the greatest historical and modern riders from two of the following nations: UK, France, Spain, Italy, Germany, Belgium, and the United States.
Players choose the country they want to be the 'Director Sportif' for and use their wits, knowledge and luck to win head-to-head races against their opponent. The objective is to win all your opponent's cards by 'flipping' them over to your nation - and the more a player knows or learns about a cyclist's palmarès, the better their chances of winning.

To celebrate the launch as well as Cav's incredible achievement in matching Eddy Merckx's all-time record for Tour stage wins, the bikers are offering an introductory discount price of £9.99 for the GB vs Belgium and the GB vs Italy packs of cards (usual RRP is £11.99).
"It's fair to say that the Brainy Biker team have been enthralled by this year's Tour de France and the European Football Championship," adds Peter, "so we want to celebrate our launch with this introductory offer to fans of pro cycling who, like us, may have come down with a mild case of Football Fever.
"If you want to see how a British cycling team of all-stars, led by Mark Cavendish does against a Belgium team of legends led by Eddy Merckx, buy the GB vs Belgium pack.
"If you fancy recreating Sunday's Euro Final match on the roads rather than on the pitch, get your hands on a GB vs Italy pack at the discounted price."
The full range of decks is available to buy now at amazon.co.uk.
0 Comments