A Crowdcube investment campaign by endurance sports TV has gone live today, offering endurance sports fans to invest in new original event and documentary TV content, to bring the world's best talent to screens around the world.
Even the biggest cycling fan may think twice about tuning in to watch the local sportive - but some of the bigger European granfondos are regularly televised, and endurance sports TV are banking on a growing appetite for streamed sports content.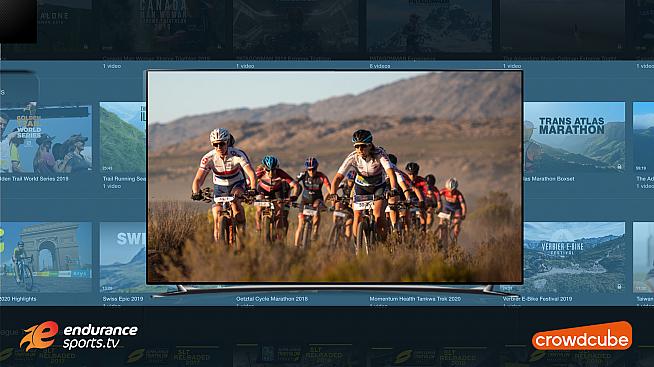 Since launching the first ever TV channel dedicated to endurance sports, the channel has accrued a packed catalogue of endurance sport content with over 600 videos including events, documentaries and original content produced exclusively for www.endurancesports.tv.
With over 5000 app downloads to date, watched in over 100 countries, and a growing market of fans and participants, the team believe endurance sports TV is ready to scale, targeting in excess of 200,000 subscribers by 2024.
"We are looking for people to join in our vision of bringing together the greatest collection of world class endurance sports content the world has ever seen, celebrating classic moments in history; going live to events as they return; and creating exclusive original content alongside some of the biggest names in the sport," says Peter Tomlinson, CEO of endurance sports TV.
With over 84 million endurance sports fans and participants globally, endurance sports TV has created a home for endurance sports fans to watch content in full HD online or through the Apps on a computer, tablet, phone or smart TV.
With a proven market and a tried and tested platform, endurance sports TV is targeting £150,000 to add more content and reach more users.
Peter Tomlinson adds: "With £50,000 already committed to this round of investment, we are now opening up opportunity to the sporting community to be a part of our journey. With the support of fans out there, we will create a viewing experience like no other."
Investments through Crowdcube can be as little as £10, and come with additional rewards from free yearly subscriptions for those committing £200+; to the creation of an original documentary; through to the training and support for a team to undertake the Arch to Arc challenge for greater investments.
To find out more about the chance to become a part of the future of endurance sports TV, visit the Crowdcube page here. To see the channel in action, visit www.endurancesports.tv.
0 Comments