Cycling UK has launched the first of its 'Pumped Up Crews' this week in Manchester. Described as "the AA of cycling", the crews are made up of local volunteers who are on hand to help cyclists with advice, directions, and on-the-spot mechanical assistance.
The volunteer crews are in response to the huge increase in new cyclists since lockdown, and aim to help the extra 1.3 million people who bought a bike since March feel more confident and happy on the roads.
Pilot crews are now operating in Manchester and Birmingham, with crew members easily identifiable by their bright purple, yellow and pink Pumped Up T-shirts and stickers. Whenever you see them feel free to call them over and ask for assistance.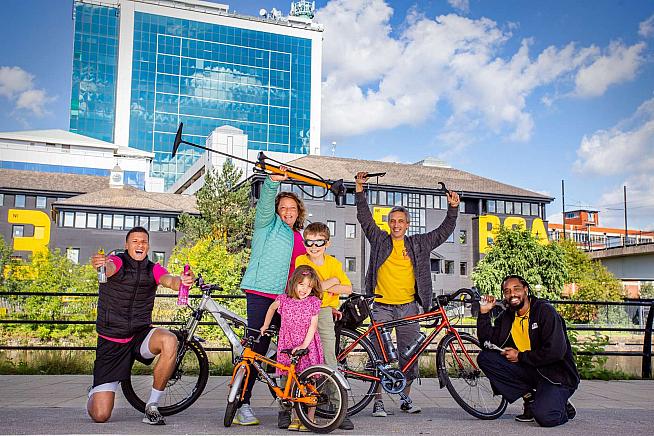 The crews are one of the many ways in which Cycling UK is inspiring and supporting more people to take up cycling. Along with this new scheme the charity is launching further pop-up Dr Bike schemes offering bike maintenance as part of its Big Bike Revival. The initiative helps returning cyclists back on their bikes with basic bike repairs, safety checks and online training.
The Pumped Up Crews are all volunteers who are either experienced cyclists or work in the cycling industry. They can help with a wide range of aspects relating everyday cycling,  including: tips on road safety, on-the-spot bike maintenance, local knowledge and directions, and general cycling advice and encouragement.
Cycling UK hopes to set up crews across the country as what it calls the UK's "Golden Age of Cycling" continues. Commenting on the launch of the volunteer scheme, Jenny Box of Cycling UK said: "With a 146% increase in cycling since March it's never been more important to help new and returning cyclists feel welcome and supported on the road. We like to think of them as the pedal powered version of the AA."
Manchester crew member Vicky Palethorpe adds '"A lot of people might feel a bit nervous if they're new to cycling so we're here to help. If you see us we can help with advice, fix a tyre (if it's not too damaged) or just give you some socially distanced high fives!"
Meet the Manchester Pumped Up Crew
The current Manchester crew members are:
Reuben Edwards, aged 29 - a professional bike mechanic, Reuben is passionate and knowledgeable about bikes and last year completed Cycling UK's Advanced Maintenance course.
Zachary James Teubler, aged 18 - bike mad since he got his first mountain bike.
Yahya Saeed, aged 26 - works with youth sports group Tuf-c and has been cycling a lot during lockdown and is hugely enthusiastic about cycling.
Vicky Palethorpe, aged 67 - cycle champion and trying to break the old man cyclist stereotype!
Ian o'Donnell, aged 44 - runs a successful local business so knows all about cycling to work!
Lisa Pollitt, aged 45, from Bolton - is a Bikeability ambassador who has taught hundreds of children to ride.
0 Comments