Strava is changing its subscription model, making some previously free features available only to paid subscribers.
Hugely popular among cyclists and runners for uploading and sharing their workouts, Strava is free to use but has for several years offered a premium paid-for service called Summit.
While Summit offered access to training plans and more in-depth analysis of activities, the free service was more than enough for many users. However, that may be set to change with Strava's latest shake-up restricting elements of some core features to paying customers.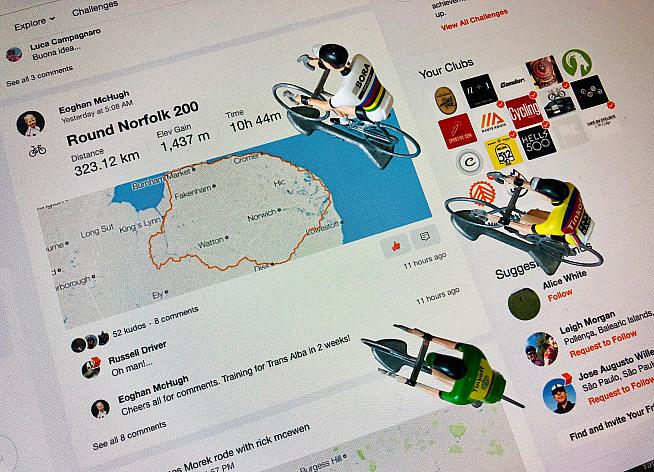 The first thing to say is that the confusing "Summit" membership tiers are being scrapped: from now on, you can either use Strava free or as a subscriber.
Full access to segment leaderboards will now be granted only to subscribers, while some routing features - like the ability to save your activity as a route - will be restricted to paying subscribers.
An article on Strava's website sets out the previously free features that will now only be available to subscribers:
Overall segment leaderboards (Top 10 view is still free)
Comparing, filtering and analyzing segment efforts
Route planning on strava.com, with a huge redesign launching soon!
Matched Runs: Analyze performance on identical runs over time
Training Log on Android and strava.com
Monthly activity trends and comparisons
There are also some new features for subscribers:
A big Routes update, with planning & recommendations on iOS and Android
Matched Rides: Analyze performance on identical rides over time
See your full workout history with Training Log on iOS
Workout Analysis is now available for all activity types
Grade-Adjusted Pace (GAP) now on iOS and Android
Coming soon: A whole new way to compete on segments...
So why the change?
Without advertising, it seems Strava needs more of its users to start contributing to the cost of running the platform.
Announcing the tilt to a more subscriber-oriented service, Strava founders Mark Gainey and Michael Horvarth said:
"We are not yet a profitable company and need to become one in order to serve you better. And we have to go about it the right way - honest, transparent and respectful to our athletes.
"This means that, starting today, a few of our free features that are especially complex and expensive to maintain, like segment leaderboards, will become subscription features. And from now on, more of our new feature development will be for subscribers - we'll invest the most in the athletes who have invested in us.
"We've also made subscription more straightforward by removing packs and the brand of Summit. You can now use Strava for free or subscribe, simple."
Some of the changes are set to take effect immediately, although logging into Strava at time of writing shows no apparent change or restriction of access to leaderboards.
The direction of travel seems clear though; users can expect to see increasing proportion of features reserved for paying customers.
The good news is that, for keen cyclists, Strava delivers impressive value for money wIth annual membership costing just £48.
At less than £1 per week, could this be the shake-up that finally persuades a critical mass of users to dig into their pockets?
0 Comments