Kidney Research UK has been announced as official charity partner for this year's Tour O The Borders sportive powered by Pirelli.
This will be the second year the popular closed road sportive has partnered with the charity. This year's Tour O The Borders takes place on 6 September 2020 in Peebles.
The partnership was established in 2019 as a result of inspirational duo Tim and Joseph McLean. The pair had to withdraw from the 2018 event when Joseph, only 22, was diagnosed with end stage kidney failure in July 2018.
Fortunately, father Tim was a good tissue match for Joseph and after a successful kidney transplant operation in early 2019 the pair completed Tour O The Borders in 2019, raising over £1,600 for the charity with the event contributing a further £2,000.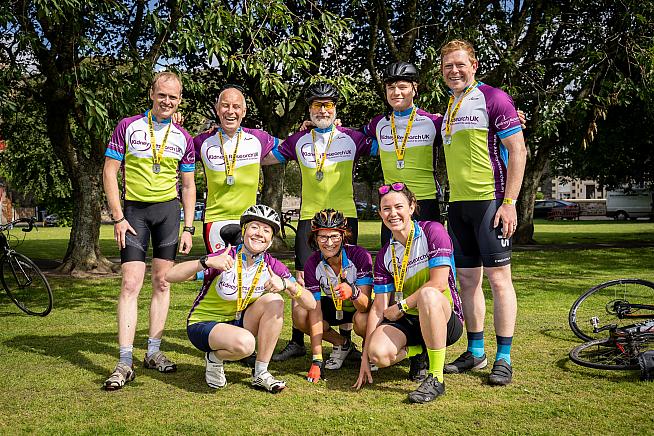 Joseph and Tim were among the lucky ones who were a good match for an early transplant. The pair owed their good health largely to their love of cycling and participating in events such as Tour O The Borders.
"We are committed to demonstrating the many benefits of cycling through our event programme and Tim and Joseph's inspirational story exhibited just how phenomenal these benefits can be," says Harley Lothian, Hillside Outside's marketing manager.
"We are delighted to take this partnership forward for another year and continue to support the fantastic work that Kidney Research UK do each day in stopping this disease in its tracks."
For 2020, participants can opt to sign up to join 'Team Kidney' where they will be committed to raising a minimum of £250 for the charity and in return receive support from the charity in the form of kit, fundraising tips and more. Those already signed up to take part are invited to fundraise for the charity themselves.
Tour O The Borders is a closed road sportive that starts in the Scottish Borders town of Peebles. The event offers two route options; 88km or 120km both of which follow closed roads around the Scottish Borders countryside. The event attracts over 2,000 cyclists and is fast becoming a highlight of the UK sportive calendar.
Tour O The Borders, powered by Pirelli 2020 takes place on 6th September 2020 departing from Peebles. Entries and charity places are available at tourotheborders.com where donations to the charity can also be made.
> High-speed Tweed: Abby rides the Tour O The Borders >
0 Comments