Wahoo Fitness - the people behind the hugely popular ROAM and ELEMNT bike computers - have announced the KICKR BIKE. Billed as "a fully connected, completely integrated" smart trainer, the KICKR BIKE is designed to integrate seamlessly with indoor cycling training apps like Zwift or TrainerRoad.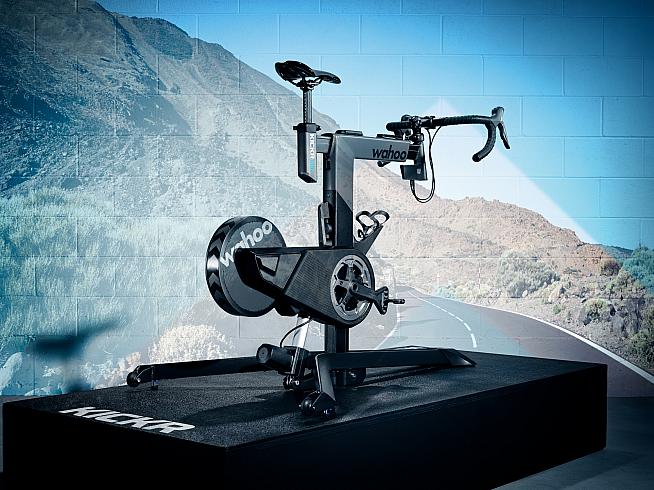 Wahoo are no strangers to the indoor training sector - their KICKR trainer is well-regarded, and the KICKR BIKE builds on their years of experience developing the entire KICKR ecosystem of integrated training products.
Wahoo say it's ideal for anyone, but the target user is the dedicated cyclist who wants "an uncompromising solution when it comes to year-round training."
"Over the past five years, we've seen an incredible increase in indoor cycling and the sales of KICKR indoor smart trainers," says Mike Saturnia, CEO of Wahoo Fitness.
"During this time, we've built the most complete ecosystem of connected indoor cycling products. The KICKR BIKE represents the next generation of indoor smart training for Wahoo and delivers the most complete, unparalleled riding experience in its class. It is the ultimate product for discerning, data-driven athletes who are ready for a feature-rich, top-quality, responsive, dedicated indoor bike as the new cornerstone of their fitness."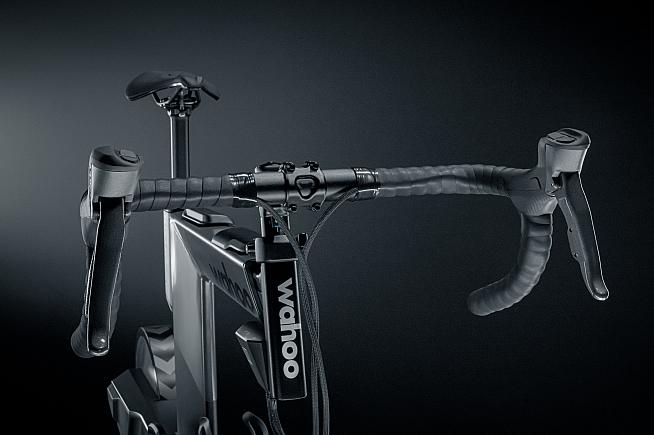 The KICKR BIKE combines the KICKR trainer's ride feel with upgraded innovations like integrated grade simulation, both uphill and down.
If you're wondering what that means, well, judging by the press photos it looks like the bike will tilt up when you're riding up a virtual climb, and tilt downwards on a descent - adding to the feeling of realism when training in Zwift, say.
Front and rear braking allows riders to control their speed just as they would out on the road. The KICKR BIKE's also features Wahoo's own proprietary "gear shifters" , which can be configured to replicate seven different custom gear shifting configurations from Shimano, SRAM, and Campagnolo.
Additionally, users can customise their front chainrings and rear cog selection to match their outdoor bikes. Wahoo even claim to have built proprietary algorithms into the pedaling that provide a genuine shifting feel.
The result, say Wahoo, is an "extensive feature set that blurs the line between the indoor reality and an outdoor experience."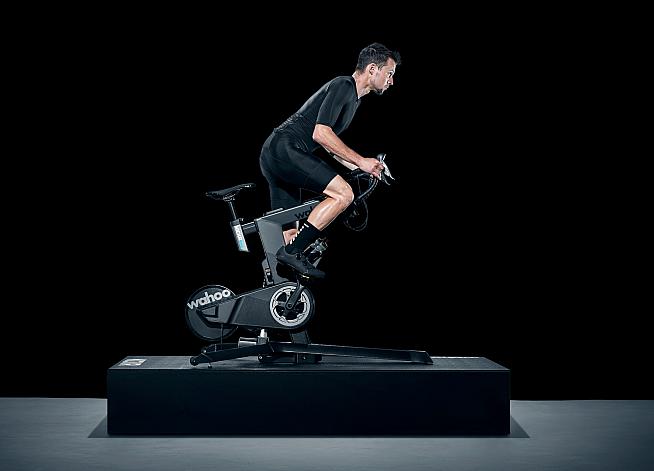 As you might expect, the KICKR BIKE integrates into the Wahoo App. Set-up is said to be a straightforward 10-minute process, thanks to step-by-step instructions, images, and a video guide.
Bike fit is also guided through the Wahoo App: users can take a photo of their outdoor bike, enter their own body measurements, or import measurements from professional fit systems like RETUL and GURU to adjust the KICKR BIKE's five contact points to generate a perfect fit immediately.
The five-point adjustment system means the KICKR BIKE can mirror the exact geometry of a rider's outdoor bike. A custom crankset with five built-in, selectable lengths mean perfect pedal strokes with no adapters needed.
Virtual cockpit settings not only allow users to match their bike's gear ratios and shifter configuration, but also feature tilt buttons to manually control grade changes or integrate with third party apps, like Zwift and The Sufferfest.
"The KICKR Bike represents the highest standard for indoor smart bike performance and has extensive features," says Wahoo's Director of Product Management, Jose Mendez.
"However, we went to great lengths to ensure the product remained simple and intuitive to set up and operate. We've learned that it's not enough to make a product with a lot of great features. We knew the KICKR BIKE needed to be as effortless as possible to use so athletes can focus on training and not troubleshooting."
The KICKR BIKE retails for $3499.99 and will ship in October 2019 in the US. UK and European customers will have to wait until early 2020 - hopefully before the end of winter.
Meanwhile, existing Wahoo customers can benefit from two important software updates for Wahoo's current generation KICKR and KICKR CORE trainers. Each have been updated to allow for multiple Bluetooth connections, meaning that multiple sensor pairings are now faster and even more reliable, ensuring a trouble-free start to workouts.
The KICKR and KICKR CORE now have integrated cadence reporting directly from the trainer, removing the need for a separate sensor and the associated pairing process. Both upgrades are available from today (4th September).
Finally, if you're looking for a training solution for the coming winter Wahoo have just announced the KICKR KOM Bundle. This features the KICKR Smart Trainer and KICKR CLIMB grade simulator for a combined RRP of £1349.98 - a saving of £150 over purchasing the two units separately.
The pricing on the KICKR SNAP has also dropped to £429.99 for the indoor trainer season.
For more on Wahoo's full line of products, visit wahoofitness.com.
0 Comments