A Derbyshire cyclist is taking his hero worship of Marco Pantani to new heights with an Everesting challenge in the Peak District. Mark Travers, aged 52 from Chesterfield, Derbyshire, is attempting to cycle up the equivalent height of Everest to raise funds for Newlife Disabled Children Charity.

Starting at 11pm and riding non-stop over 18 hours, Mark will be climbing to Beeley Moor and back 45 times, accumulating a distance of 257km (160 miles) and elevation of 8,848 metres (29,029ft), which equates to the height of the world's tallest mountain, Everest.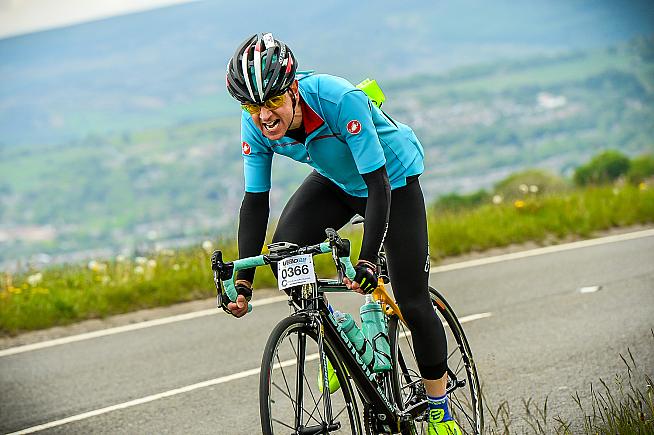 As you might expect, Mark is a keen cyclist with numerous sportives under his belt, including La Marmotte in the Alps. As a member of the Chesterfield Spire Cycling Club he rides 3-4 times a week completing regular centuries on Sundays.
Through his club connections he heard about Everesting: accumulating 8,488 metres of elevation (the height of Mount Everest) with repeated ascents of the same hill in a single ride.
The first successful Everest attempt was established on Mt Donna Buang near Melbourne, Australia by George Mallory, grandson of the legendary English mountain climber by the same name. That was back in 1995. The first recorded Everesting on Strava was set in 2012, and these days a group called the Hells 500 club are guardians of the Everesting flame.
An Everesting Hall of Fame records each successful attempt, with just a few rules - one of which being that rides must be recorded on Strava.
Beeley Moor vs Bianchi Specialissima
For Mark's challenge, he has chosen a climb close to his home in the Derbyshire Peak District. Beeley Moor may lack Everest's grandeur - the summit stands around 200m above sea level - but it's a steady climb with an average gradient of 6.7%, which lends itself to a challenge like this.
Mark will be assisted in his challenge by one of the lightest road bikes available, a Bianchi Specialissima painted in tribute to his cycling hero, Marco Pantani.
This limited edition frame was released to commemorate the 20th anniversary of Pantani's remarkable stage victory at Santuario di Oropa in the Giro d'Italia.
In 1999 while wearing the pink jersey of leader of the Giro, Marco Pantani put on a show for the ages from the saddle of his Bianchi MegaPro Concept.

Falling foul of a mechanical with 10km to go, Il Pirata was cast 30 seconds adrift from the lead group including all of his rivals for the general classification. Rather than wait for the maglia rosa the contenders forged on - hoping to strike a knockout blow and eliminate the Italian favourite from the race.

Assisted by his teammates of the Mercatone Uno-Bianchi squad, Pantani regained contact with the leaders, before flying past them and forging onto the finish line alone - winning the stage and setting the fastest ever time on the climb to Santuario di Oropa.

It was perhaps his greatest performance, but he crossed the line without celebrating - believing there must still be some riders ahead. He knew only afterwards that he had taken the stage as well as saving his race. It was described as 'La Rimonta del Secolo', or 'the comeback of the century'.
It's a prestigious bike, befitting the task in hand - but Mark will have a back-up ride in the wings, just in case Pantani's mechanical gremlins come back to threaten his effort.
Raising funds for disabled children
Pantani may be Mark's hero, but his main inspiration for the challenge comes from outside of cycling.
When not on two wheels, Mark is a senior product advisor for Etac R82 paediatric products and supports disabled children, families and healthcare professionals in Derbyshire, Lincolnshire and Yorkshire. Owned by the Swedish Etac Group, R82 is a Danish manufacturer of specialist products that aid children to sit, stand, walk, bathe, toilet and travel. Over and above its commercial activity, the brand has a strong relationship with Newlife as it provides wheelchairs, pushchairs, walkers and other products for the charity's free Emergency Equipment Loan Service.
Newlife delivers the UK's only rapid response equipment loan service. Through the charity, children who are at significant risk of injury or in urgent need because of their shortened life expectancy can receive specialist equipment free of charge, usually within 72 hours.a
Newlife can also provide funding of equipment through its grant scheme so disabled children can benefit from greater ability and comfort in life.
It is these vital services that have inspired Mark to cycle up an equivalent Everest to raise donations that will aid families in desperate situations across the country.
As Mark explains: "My challenge is more about what I can achieve for Newlife, not what I can accomplish personally. The ride before me will not be easy, I have seen many proficient cyclists fail. However, I am fully determined and hope to complete the distance in around 18 hours.
"This is equivalent to the height of Everest and will consist of 45+ reps up and down a Peak District hill which is around 1.75 miles in length. With an average gradient of 6.7% I know I will have to remain both physically and mentally strong. I will be taking on food and water at the top and consuming on the way down. In my practice descents, I have been recording speeds of 53mph so I need to be focused!"
Mark continues: "Etac R82 and I are firm supporters of Newlife, without their emergency equipment loans and grants so many families with disabled children would be lost in the UK. This is why I encourage everyone to donate - every penny will make a difference.
"I would like to thank J E James cycles in Chesterfield for supplying my technical clothing and fellow Etac employee Colin Williams (Molift hoists), who will be there supporting me through the night and ensuring I have assistance if needed.
"Strangely I am looking forward to the difficulties that face me, I love hill climbing and the feel of the open road is a sensation that is priceless to me. However, as I work with disabled children on a daily basis, it will be the thought of helping them achieve more that will be forefront in my mind."
Jon Preater, Etac R82 Managing Director, adds: "We wish Mark the very best of luck with his challenge. His grit and determination in support of Newlife is commendable and we hope donations are healthy to ensure sustainability of this charity's essential services."
Mark's challenge will start at 11pm on Friday 28th June, and end - if all goes to plan - at around 5pm on Saturday 29th June.
The start point is the Lamb Inn, Hollymoorside, Derbyshire, S42 7EU. If you'd like to come along to cheer Mark on at any point in the ride - or even ride a few ascents with him in solidarity - support will be more than welcome.
You can also donate on Mark's fundraising page at: https://tinyurl.com/y3kcwaws.
0 Comments