To the left of the scene, Alberto Contador and Chris Froome arm-wrestle next to a half-eaten burger. Jan Ulrich, an arm draped over Marco Pantani's shoulder, is sharing a beer with Lance Armstrong. To the right, Bradley Wiggins is rising to steady Tom Boonen who is doing a jig on the table, bottle of champagne in hand. And in the centre, Peter Sagan raises a toast with a bottle of Duvel.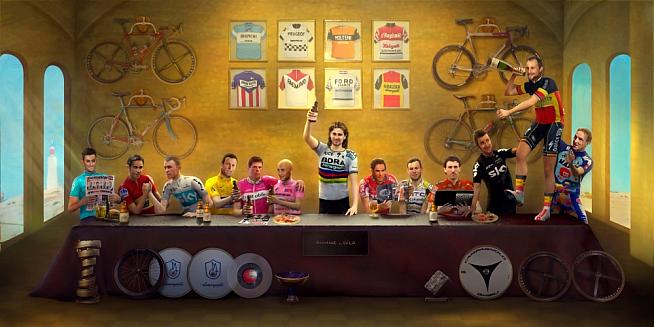 It sounds like a scene from the wildest imaginings of the Come Dine With Me team, but this is in fact the latest epic cycling painting from Hommage au Velo.
Based on Leonardo da Vinci's Last Supper, it depicts 13 of cycling's most celebrated - and notorious - riders from the past twenty years and is packed with a host of details and in-jokes to delight fans of the sport.
There's Mario Cipollini, Playboy in hand. Fabian Cancellara, meanwhile, holds a copy of "Mechanical Engineering" - a wink at the oft-repeated, never substantiated speculation about his use of a motor.
The three notorious dopers of the 90s, Lance, Ulrich and Pantani huddle together in defiant solidarity, and behind the table hang an array of familiar team bikes and jerseys.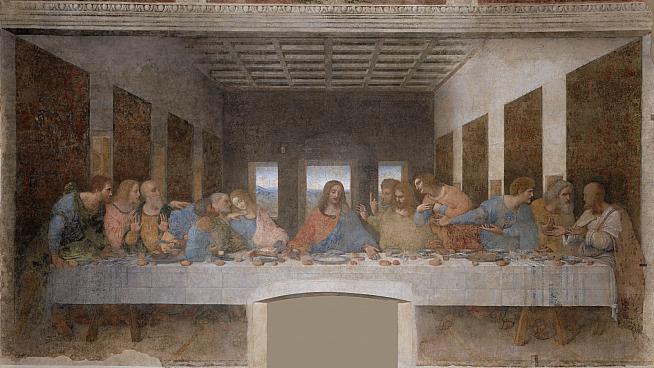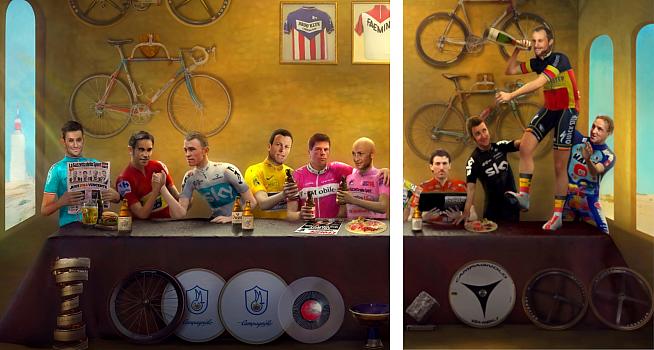 The painting is the brainchild of Hommage au Velo founder David Law, who commissioned the piece as part of a series of paintings celebrating iconic riders and bikes from pro cycling's recent history.
We asked him about the concept of the The Last Supper - and suggest that Bradley Wiggins, as a noted devotee of cycling's history, will approve.
"The idea is that it will stimulate debate!" replies Law. "Yeah Wiggo will like it - hanging out with the Classics crew, not the GC riders, looking in totally opposite direction to Froome.
"Museeuw trying to calm Boonen down. Lance in the place of Judas Iscariot the Betrayer. Mario with Playboy in his hands. It was a bit of an indulgence - you'd have to sell a lot of them to pay for the production, but it's a bit of a one-off and definitely original."
The Last Supper is just one in a series of cycling themed paintings in the Hommage au Velo collection. Elsewhere, you'll find oil portraits of Marco Pantani and Jan Ulrich Marco, and Pantani's Bianchi in the famous Mercatone Uno celeste and yellow colours.
Of the Bianchi painting, Law says:
"I got myself the very best artist (she has a background in architectural drawings) I could find and then I spend hours and hours with her creating the bike to paint. You will notice that some details are missing (like random stickers pro's have on their frame to advertise a sports drink etc).
"The idea is that the bike must be painted to reflect the memory the viewer has of it, which is not necessarily how the bike actually was (with that rubbish sticker on it somewhere etc).
"It's quite painstaking, but the end result that I wanted was that each piece is a piece of art, that just happens to be of a bicycle, rather than a comic book bicycle that is being presented as art."
The prints are all available to buy now, with prices starting at £40 for unframed artwork. A 30cm x 60cm print of The last Supper on Hahnmuhle 310gsm paper is priced £75.
And, dare we say, it looks like the perfect Christmas present for any fan of the sport of cycling.
"The Last Supper: Cycling Legends of the Millennium" and other prints are available now at hommageauvelo.com.
0 Comments