RideLondon results are in. Did you get the triumphant tabloid of success, or the pointless pamphlet of despair?
If you're one of the 80,000 hopefuls to have entered this year's ballot for the RideLondon-Surrey 100 sportive, your watch is ended. This year's RideLondon takes place on 29th July and ballot results have now been announced, meaning that around 20,000 lucky cyclists will receive good news in the form of a glossy magazine landing on their doormat.
For the rest of us, it's much the same glossy magazine - but the dreaded "Commiserations" edition is destined for a speedy trip to the recycling bin.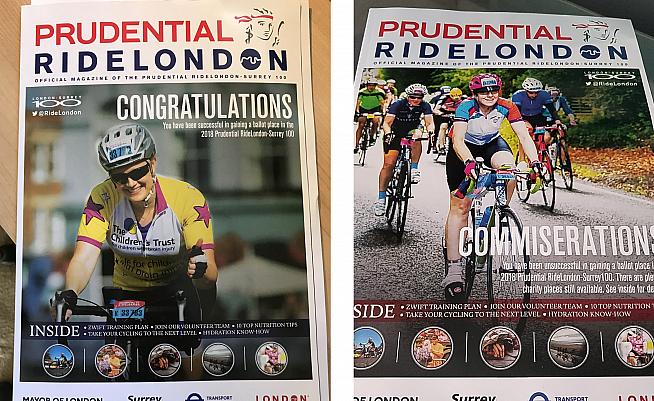 But don't despair! If you've missed out on a place there are still ways of taking part. And we don't just mean hopping a barrier on a quiet section of the course: a large number of charity places are still available, allowing anyone willing to raise a few quid for good causes to ride on the day.
Save the Children, Macmillan, the WWF (animals, not wrestlers), GOSH, err "Send a Cow" - all the big names are there. Check out the RideLondon website for a full list, along with handy links so you can sign up quickly: www.prudentialridelondon.co.uk/charity.
And of course, RideLondon isn't the only show in town. There are plenty more fantastic sportives to choose from; our sportive calendar is a good starting point to find a challenge near you.
From the rolling hills of the Chiltern 100, to riding actual stages of the Tour de France with Le Loop, you'll find more than enough to keep you spinning all through the year.
And we promise we'll never send you a personalised magazine with "Commiserations" printed on the front cover.
0 Comments