Mellow Velo is a new sportive from Golazo Cycling, organisers of the Tour of Cambridgeshire Gran Fondo.
Billed as "the happiest, most relaxing and stress-free ride in the universe", the new sportive takes place on Sunday 3 June 2018 and features closed roads, no timing chips and what is claimed to be the flattest sportive route in the UK.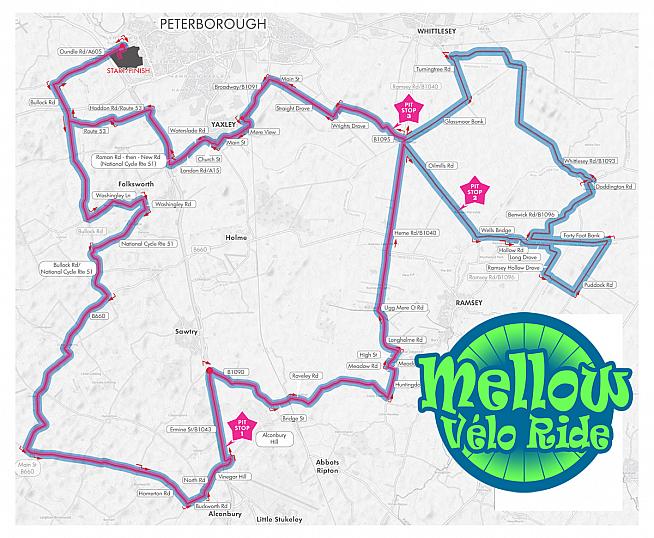 "This cycling event is perfect for beginners, family orientated cyclists, riders who want a challenge and raise money for their chosen charity, and those of you who prefer to chill on the bike," say Golazo.
The Mellow Vélo ride is part of the Tour of Cambridgeshire Cycling Festival and takes place on the same weekend as the Tour of Cambridgeshire Gran Fondo, a qualifying event for the UCI Gran Fondo World Championships.
While the Mellow Velo ride will be a much more laidback affair than the gran fondo, riders will still enjoy the support of high quality medical and moto security back up, as well as three pit stops serving sausage rolls and cookies alongside more traditional sportive fare.
HQ for the ride is located just off the A1 near Peterborough. While other sportives require riders to set alarm clocks for dawn the Mellow Velo has a lunchtime start of 1:15pm, with riders allowed over 7 hours of fully closed roads to take advantage of a short (52 miles) or longer 80-mile option.
Jessica Lockhart, Event Manager at Golazo Cycling Ltd, commented: "We are very excited about the launch of this brand new, fun, inclusive and chilled event.
"We've been approached by many people and organisations over the last few years, including many different charities, asking for an event that is going to be more relaxed and is less demanding than the racing and competitive events we do. In response to this pull from the market, we had the view to getting more people, of all ages, out on their bikes by introducing a hassle-free and uniquely enjoyable ride together.'"
Mellow Vélo takes place on Sunday 3 June 2018 as part of the Tour of Cambridgeshire cycling festival. Book your place today at www.tourofcambridgeshire.com.
0 Comments