As the mercury rises across the country this week, cyclists must be prepared for the extreme conditions. Last month, two cyclists in southern France died in 40C heat - what might seem like a beautiful summer's day can quickly become a nightmare if proper precautions are not taken.
Whether you're riding a sportive or simply out on a club or social ride, take heed of the weather forecast, and follow these top tips to protect yourself when cycling in hot conditions.
1. Acclimatise
Build up slowly to cycling in the heat - start early in the morning or later in the evening, when the temperatures are more moderate, before you even consider a ride in the heat of the day.
If you must ride in the middle of the day - and on long sportives it may be unavoidable - take advantage of roadside shade where possible.
If you start to feel unwell, take a break out of the sun. Better to lose a few minutes on your finish time than suffer heat stroke and end up in the broom wagon with a DNF.
2. Stay hydrated
Riders on stage 16 of this year's Tour de France consumed an average of 22 bottles each over the 177km - and that was a flat stage!
While your ride may be shorter, always bring enough liquids with when cycling in hot summer conditions. If you're going for more than a short spin, plan to stop off along the way to refill your bottles. Many pubs and cafes are more than willing to fill up your water bottle for free, so don't be shy.
If you are going for a longer ride in extreme heat, consider taking an isotonic drink to quickly replace lost fluids while also providing a boost of carbohydrates. Most sportives will provide energy drinks at feed stations, alongside plain water - don't pass up the chance to refill your bottles.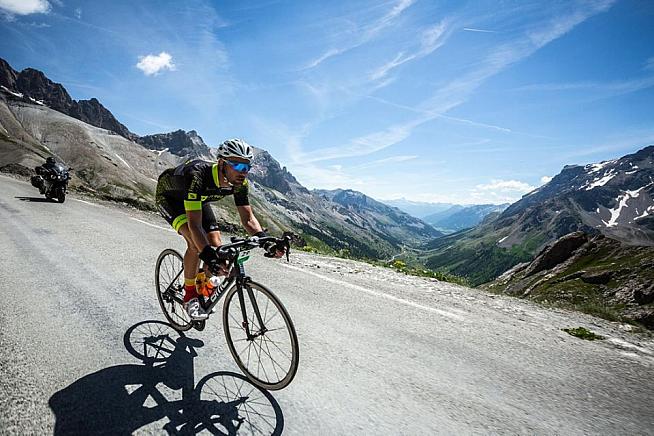 3. Pace yourself
Know your limits, pace yourself and adjust your speed and your ride length to reflect the extreme conditions. Just as the super fit cyclists on the Tour won't be racing at the same speed as usual in the 40 degree heat, cut yourself some slack and enjoy a more leisurely, shorter ride.
4. Stay calm
Sweltering conditions can cause tempers to rise along with the temperature. Avoid clashes like those between Luke Rowe and Tony Martin on the Tour this week by taking extra care and remember that other road users - whether that's drivers, pedestrians or cyclists - may not be at their most alert in the heat. Keep your head, stay cool and stay safe.
5. Wear sunscreen
Sunscreen is important whenever you are going on a long summer ride, but particularly with temperatures hitting the mid thirties. Choose a sunscreen that has both high UVA and UVB protection - both are important to stop skin damage.
Slap it on liberally. Tan lines may be a badge of honour among cyclists, but burn lines? Not so much.
>>> Review: Pelotan Sun Protection for Cyclists >>>
6. Select appropriate clothing
There's a wide range of lightweight summer kit for cyclists to choose from these days. Decent kit is available to suit any budget, so there's no need to suffer in a sweat-drenched t-shirt.
>>> Seven of the Best Merino Cycling Jerseys >>>
Some cyclists swear by the sweat-wicking properties of merino wool, and many brands employ a merino blend in their lightweight summer jerseys.
For peak summer weather, consider shorts and jerseys with built-in sun protection, and a cap under your helmet to protect your head.
>>> Summer Riot: 11 Colour-Popping Summer Cycling Jerseys >>>
0 Comments