Is this scratch-off map of UK cycling climbs the perfect gift for the cyclist in your life? Certainly climbers will love it - and itchy-fingered scratchcard addicts will find plenty to enjoy too...
The Scratch Off UK Cycle Climbs Print shows a selection of the most challenging hill climbs in the UK, each with a scratchcard-style foil label next to it. Conquer the climbs, then scratch them off the map as you go along to chart your progress.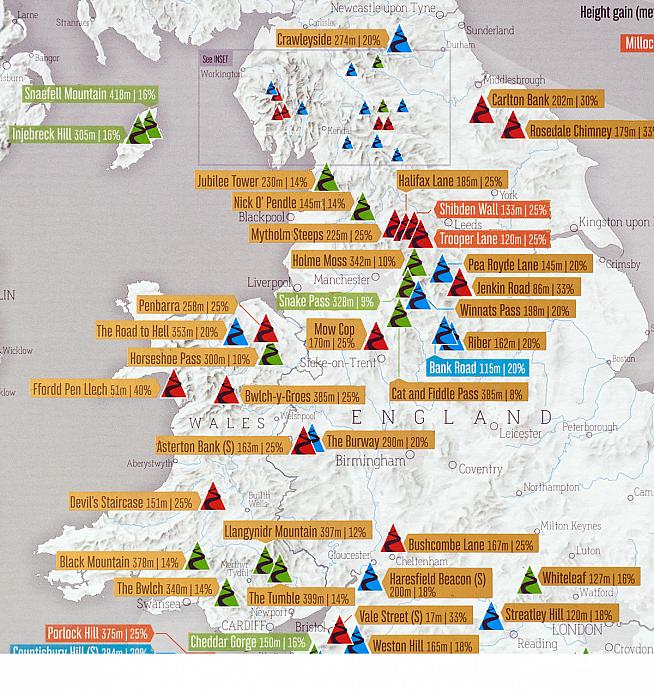 The map shows 75 climbs across Britain and the Isle of Man, each one annotated with its maximum gradient and the total height you must cycle up. Sportive favourites including Black Mountain (Dragon Ride), The Tumble (Velothon Wales) and Hardknott Pass (Fred Whitton Challenge) are all present and correct, alongside some formidable-looking peaks we've yet to try. Snaefell Mountain on the Isle of Man, anyone?
The climbs are colour coded for steepness, green for 0% to 16%, blue for 17% to 24% and red for ultra-steep climbs of 25% and over - there are 26 of these.
Creators Maps International say it's "a must-have gift for the committed cyclist wanting to tick off the UK's most famous climbs" - and, if the popularity of Simon Warren's series of cycling climbs books is any indication, we can see this map filling quite a few stockings come Christmas.
An A3 size print costs £12.99, with framed editions available for £31.95. And for non-cyclists, the range also includes maps of UK distilleries, football grounds, golf courses and Munros.
For details and to buy visit www.mapsinternational.co.uk.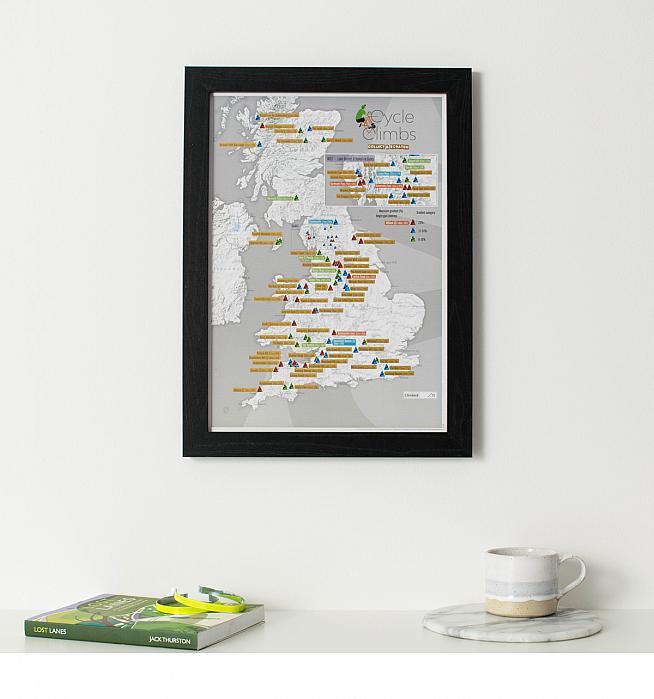 0 Comments