"Are you fit?" asks Stephen Roche, eyeing my cycling kit with that trademark twinkle in his eye.
The Irish cycling legend has just stepped off a flight from Geneva, and is about to effect a quick change into his own kit for a spin in the Chilterns. We're in Amersham as part of a posse of journalists for a preview of this July's Chiltern 100 sportive, for which Roche is an ambassador.
As for his question, coming from a past winner of the Tour de France, Giro d'Italia and World Championships, I'm not sure how to answer. "I won't be keeping up with you," I manage.
"It's not about whether you can keep up," he replies with a smile, "It's about enjoying the ride."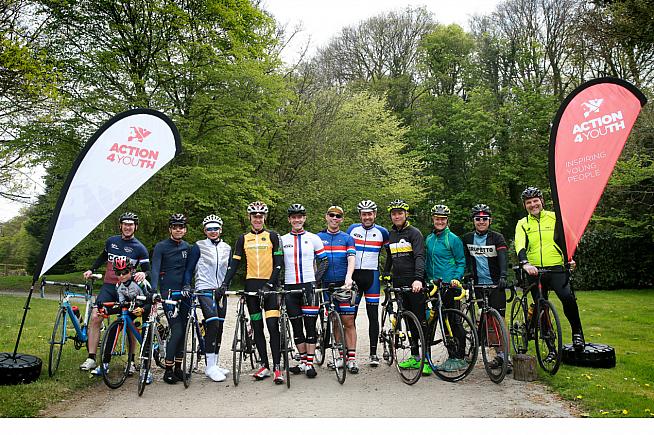 The Chiltern Cycling Festival takes place on Sunday 16 July 2017 at Penn House country estate near Amersham. It brings together two existing highlights of the cycling calendar: the Chiltern 100 Sportive and the Chiltern Cycling Festival.
The 172km/107mile Gran Fondo is famed for its 21 gruelling hills, but with two shorter route distances available, the Chiltern 100 Sportive ensures that cyclists of all levels can enjoy the spectacular riding within the Chiltern Area of Outstanding Natural Beauty.
With over 3,000 riders expected, the event promises some of the most picturesque, but challenging road cycling available in the UK. Proof, say organisers Human Race, that 'brutal can be beautiful'.
But what's Stephen Roche doing here?
Well, celebrating a personal landmark for for one thing. The relaunch of the festival coincides with the 30th anniversary of Roche's iconic 'triple crown' in 1987 - a remarkable hat-trick of Tour, Giro and World Championships.
It's a feat that has only been equalled by one other rider (chap called Merckx, if you're wondering).
Only fitting then, that after tackling some key sections of the route of the Chiltern 100 Sportive - including the infamous climb of Whiteleaf - Stephen joined riders and staff to share a celebratory glass of champagne and some cake.
Sportive.com managed to grab a few words with him in between mouthfuls...
First, with the Giro now underway, what are Stephen's memories of 1987 - is it all still fresh?
"This year it's got a lot more attention than it normally would because it's been 30 years - no one has done it since. So it is.. I won't say quite fresh, but it is fresh in the mind because I've been speaking about it so much over the past 12 months. "But yeah, there are so many things that happened in that year. The Giro, the Worlds - there are episodes in those events that will never leave me."
Have the italians forgiven you yet for beating their man - and your team mate - Roberto Visentini?
(laughs) "The thing is, I went on to win the Tour and then the Worlds. So whereas by beating one of their own in the Giro, it was difficult... but in the Giro we had a go at each other all the time, and I came out on top.  "Then we went to the Tour and I won the Tour, and then the Worlds. So the Italian people, maybe they didn't give me a full pardon for it, but they more or less pushed it aside and said well, he was a strong guy. "So I'm very happy now whenever I go back there, and I go back a lot. Someone might joke about it, but it's not massive."
And have you spoken since to Roberto?
"Well, believe it or not, I had always thought everything was reasonably ok, because I vaguely remember in '88/'89 meeting him at events and just shooting the breeze with him like, and there was never any animosity. And then in 2013 for the 25th anniversary of my triple, Carrera (Roche's team at the time) had a lunch down in Verona. And at the lunch a journalist turned to me and said, 'Hey, Roberto isn't here; did you not invite him?' "And I said 'yeah, I invited him all right, I don't know.' "So the guy got his phone out and called him! 'Hey, Roberto...' But Roberto jumped down the phone at him - 'How could they invite me, after all they've done to me, making me do this, making me do that and Roche then invites me - No! Never, never never - ' "And that was the first time I realised that it wasn't water under the bridge. "And then, this year they commissioned a TV show, and he said on this show that my win in the Giro in '87 more or less put a finish to his career. So...a bit much.
What happened to him after the Giro?
"After that he was finished, yes, more or less... so maybe I did put an end to his career.
"But I hope now, and I'd really like in the next few months to go and see him because this year, being the 30th year, there'll be a big party and it'd be really nice to see him there.
"Strange enough now, what happened there, we're doing a documentary for Rai TV and they told me they contacted V and he has agreed to meet up. So that's a good sign."
After that controversial Giro win, Roche of course still had plenty of work to do to win the Triple. And as he recalls it, an element of fortune played a part when the course chosen for that year's Road World Championships proved unexpectedly suited his talents.
While we're talking about parcours, I wonder about Stephen's impressions of the Chilterns on this flying visit. How does he rate the challenge facing riders on the Chiltern 100 Sportive?
He answers enthusiastically, evidentally taken by the lush countryside even on this slightly grey April day.
"It's a cycling paradise here, isn't it. The roads themselves are fabulous for cycling - although sometimes a bit steep! But that's only because we have a bit of extra weight at the moment...
"But I wouldn't have imagined you'd have these sort of roads - such a variety of roads, and quiet roads - so close to London."
Sportive: "Is this the sort of parcours that would have appealed to you in your racing days?"
"Ooh... a bit steep for me! I was the kind of guy who when I got into a tempo on a (long Alpine or Pyrenean) climb - whoosh, fast. But these kind of climbs here are puncheurs' climbs: very short, steep - well, some of them are short and steep - but with the repetition, it's very very hard."
He ponders a second further. "I think I would have been ok, but I'd have suffered a bit."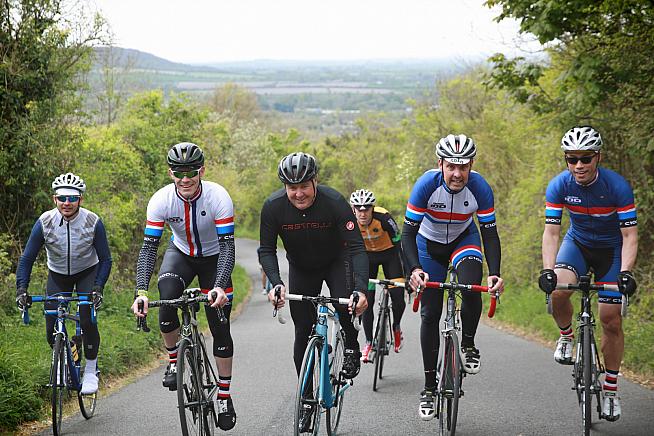 Despite references to extra weight, there's no doubt Stephen keeps himself in shape. He rides as often as he can, mostly on Mallorca where he set up a cycling holiday company almost immediately after retiring. He even runs a few sportives of his own.
Talking about this side of his work, it's clear this gregarious champion gets a kick from the social side of cycling - often surprising clients by popping up on group rides. Those lucky enough to bump into Roche on a ride won't be short of chat. Stephen has a thousand anecdotes from his cycling days and shares them freely, along with his opinions on today's racers, making a dream ride companion for a cycling fan.
While he clearly keeps a close eye on pro cycling - his son Nicolas races for WorldTour team BMC, and Roche has arrived here straight from the start of the Tour de Romandie - he's earned the right to enjoy himself off the bike these days.
And as he notes, there's plenty to enjoy at the Chiltern Cycling Festival. The Velo Village will feature live music, book signings, live coverage of Stage 15 of Le Tour de France, a beer tent, gourmet cuisine and over 30 stalls featuring clothing, equipment, gifts and collectables - with entry free to all, and free parking for riders and visitors.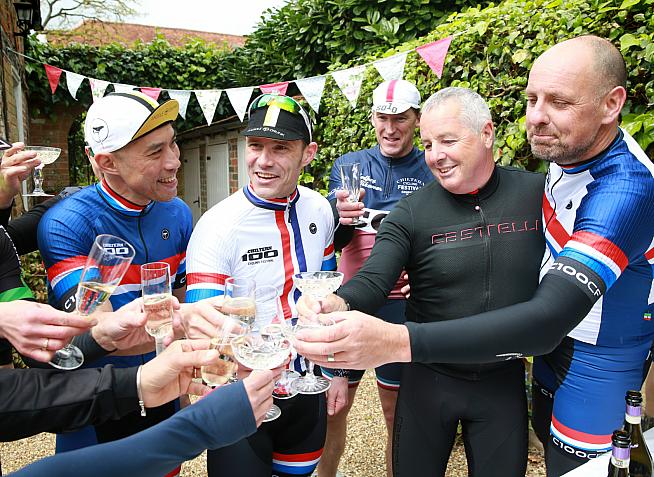 The day will also see the Amersham Classic ride take place, with retro-dressed riders on classic bikes encouraged to enter into the vintage spirit of cycling's golden eras - including the Stephen Roche inspired 80s. There will also be a Cycletta women's only wave of the 52km (32mile) sportive course.
Talking about the event, I get the impression the festival around the Chiltern 100 holds at least as much appeal for Stephen as the challenging parcours:
"So many sportives these days, you ride and you go home," he explains. "The idea of a sportive I think is to have a good day out. Having the festival associated with the sporive is brilliant because you go around and ride whichever route you want to ride - the big one, the middle one or the short course - and then you meet up in the village afterwards for the festivities that are going on.
"And then there's this thing also, the Amersham Classic Ride with the retro bikes, and the Cycletta ladies ride - the thing is, to have something like this that's different, it's a great concept and I think that it'll bring an extra added attraction."
We digress briefly to talk about the popularity of retro rides like l'Eroica, and I ask whether Stephen is tempted, for the Amersham Classic, to bring one of his old bikes out of retirement?
He looks delighted at the thought.
"Well, you know they're pre-'87 so they qualify!
"But no, with the festival and everything, it's a great concept - it's the way to go."
I could chat to Stephen all day, but on that positive note our time is up - I'll have to ask him about his efforts to track down his race-winning bikes another time.
He rises to sign some event jerseys, while for me it's time to head home. But from our brief encounter with the Chilterns, I can see the obvious appeal of this sportive. Those taking part in the Chiltern 100 can look forward to a proper challenge, with some fierce gradients concealed among the folds of the hills - and a proper party at the end.
With a complimentary glass of champagne awaiting each rider at the finish, what better way to toast a great day's cycling on the anniversary of Stephen Roche's momentous feat 30 years ago.
A limited number of entries to the Chiltern 100 Cycling Festival sportives are still available. Official charity Action4Youth are also offering places on any ride for only £1, with a pledge that riders raise £150 in support of the work Action4Youth do with young people.
For more info and to enter, visit www.humanrace.co.uk/event/chiltern-100-sportive.
0 Comments