New York; Singapore; the Square Mile; ant-hills: it seems wherever living space is at a premium, expanding skywards is the solution.
So too for cyclists; disciples of the dangerous N+1 theorem can find themselves quickly running out of space, particularly if they happen to live in N1 - or indeed any London postcode, where the price of m2 is through the roof.
If you can't or won't keep your bikes in the bath, one of the more elegant storage solutions comes from Cycloc. The Solo is a wall-mounted rack that lets you hang your bicycle up on the wall in pride of place, like the work of art that it is.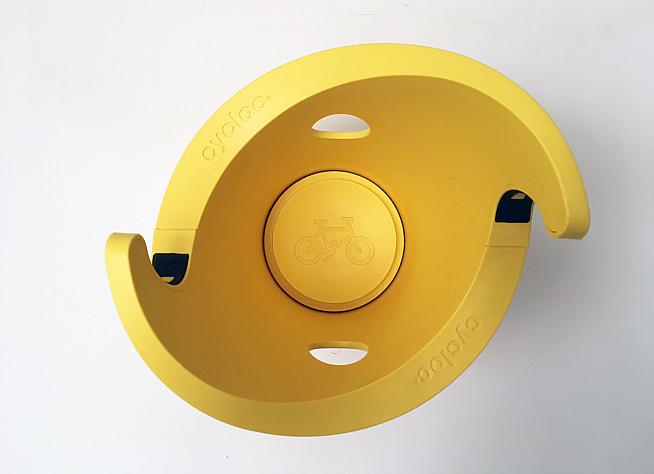 We recently got hold of a Cycloc Solo to test. It comes in a choice of seven bright colours, we opted for the maillot jaune yellow. My application to mount it in the kitchen was foiled by bureaucratic red tape, however she did suggest I stick it up in the shed.
Out of the delivery box, the Cycloc Solo packaging is suitably minimal: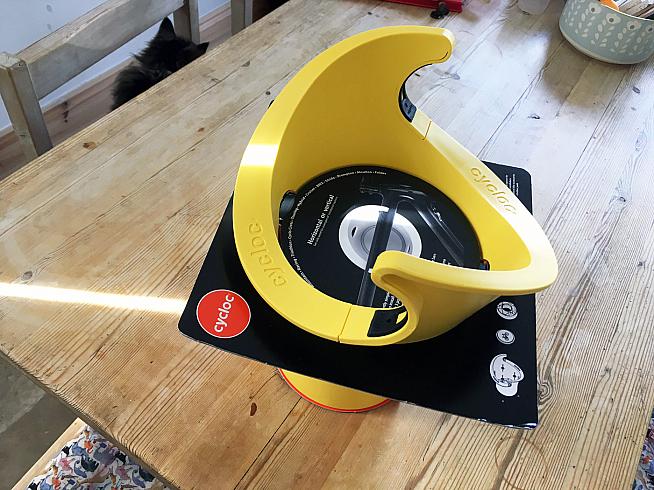 The product itself resembles a sturdy plastic bucket, with some eye-pleasing swirly cutouts that provide the mounting point for your bike.
There are also some thoughtful, practical details like slots to affix a bike lock, and rubber padding where the frame contacts the mount to avoid damage to the paintwork: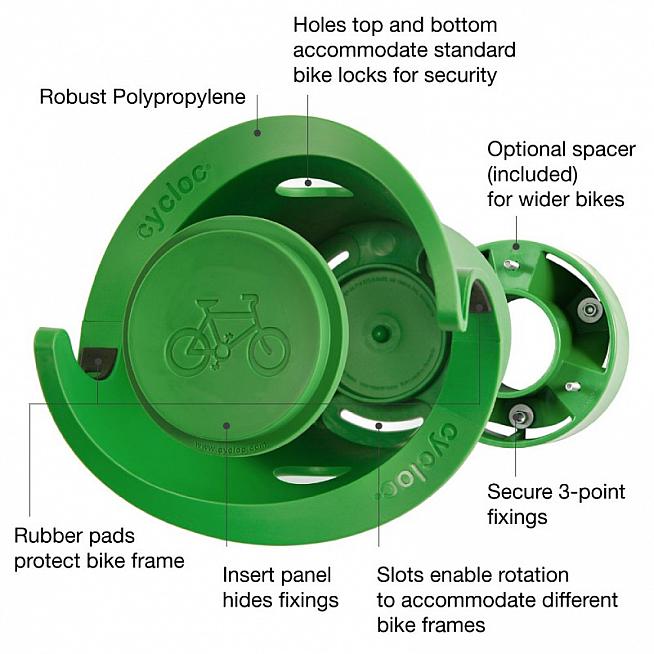 Mounting is a straightforward process. Simply locate the ideal spot on your wall, drill three holes using the template provided, and then affix the Solo using suitable fixings for the wall.
Washers and bolts are provided, but you'll need your own rawl plugs or similar depending on what your wall is made of.

A colour-matched spacer is provided, to allow wall clearance for bikes with wider handlebars - e.g. mountain bikes - but this isn't required for dropbar road bikes so I didn't use it.
There's also a neat little cover with a bike engraved on, to cover the mounting screws - I did use this.
The whole process took about 20 minutes, and once mounted the bike hangs neatly on the lip of the Cycloc ready for the admiring gaze of spectators.
It's not exactly a discreet storage solution - if anything, a bike hanging on a wall is even more conspicuous than a bike tucked away against a wall - but ease of use and understated good looks work in its favour.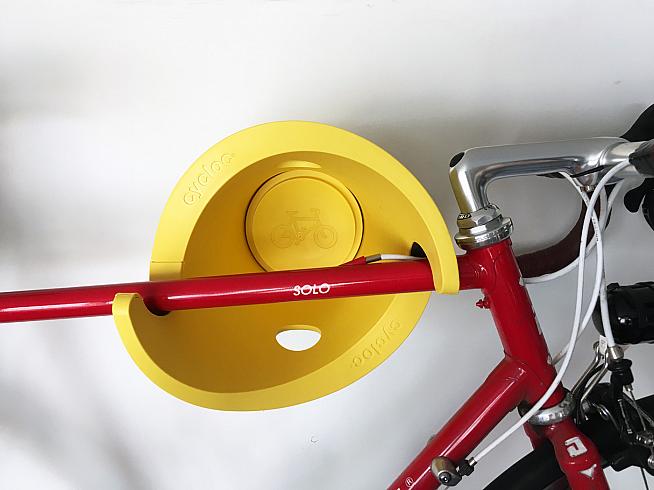 In terms of value, the Solo is relatively affordable at a shade under £60, but clearly you're paying for the design not the raw materials. And you've gained an extra square metre of floorspace; what would that cost you?
Well designed, practical and pretty: the Cycloc Solo will appeal to design-conscious types with a minimalist approach to decor but a maximalist approach to collecting bikes.
Cycloc are also currently running a Kickstarter campaign for their new Super Hero mount, so if you like the look of that why not invest and make it happen.
Cycloc Solo, £59.95 from www.cycloc.com
0 Comments