The Evo Pro is billed as Ribble's entry-level carbon road bike, but it only takes a short ride to appreciate there's very little that's entry-level about its performance.
While the Evo Pro has proven itself a popular model for Lancashire-based Ribble over past years, the frameset has undergone significant surgery for 2017. You'll notice the cosmetic changes first: the Evo Pro now sports a smart new livery of acid green accents on gloss white. Out on the road, you'll feel the benefits of a beefed up pressfit bottom bracket, new tube shapes and a taller headtube that allows a more upright riding position.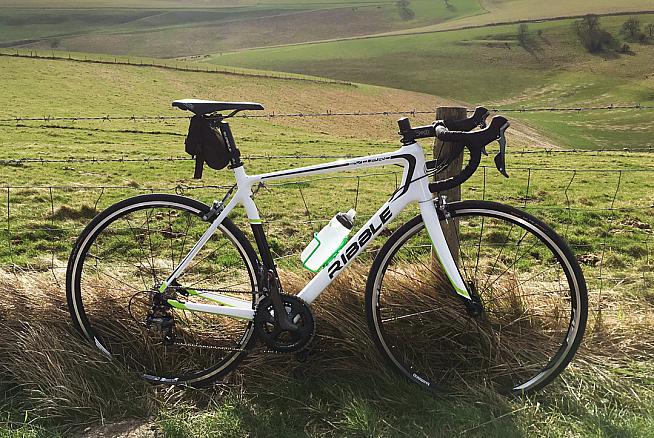 The idea of the Evo Pro is to provide an accessible entry point to road cycling. Whether you're new to cycling, or looking to upgrade your heavier alloy or steel bike to something nippier that will let you tackle a sportive or two, the Evo Pro is designed to fit the bill.
Our test bike arrived from Ribble almost fully assembled - all it took was a couple of minutes to fit the saddle and seatpost and tighten the bolts on the stem. Minimal mechanical know-how is required; if you can use an allen key, you'll have this bike ready for the road 15 minutes after delivery.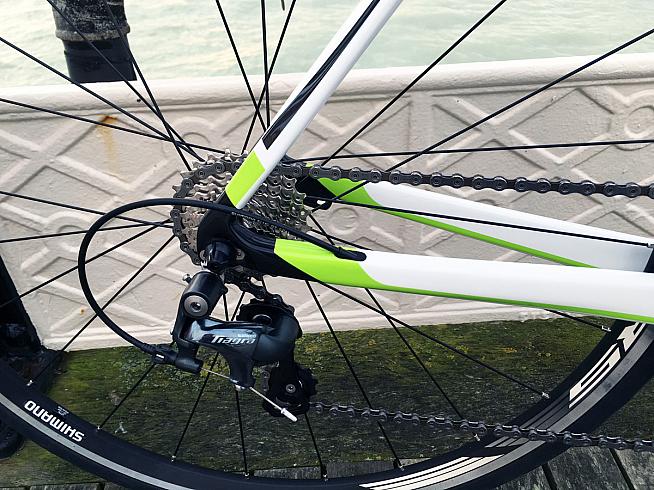 Although the headtube on the Evo Pro has been made taller, this tweak to a more comfort-oriented geometry has been discreetly incorporated into the overall frame design. The Evo Pro doesn't look freakishly high at the front end, and in fact the compact geometry is in the same ballpark as popular endurance models from other brands, like the Giant Defy for example.
The stem and bars came fitted above a stack of spacers in the highest position possible. I took the bike for a quick spin to the beach to try it out. While it initially felt a bit odd sitting so upright - the bars were a good 4cm higher than my usual setup - it's certainly a comfortable position for cruising.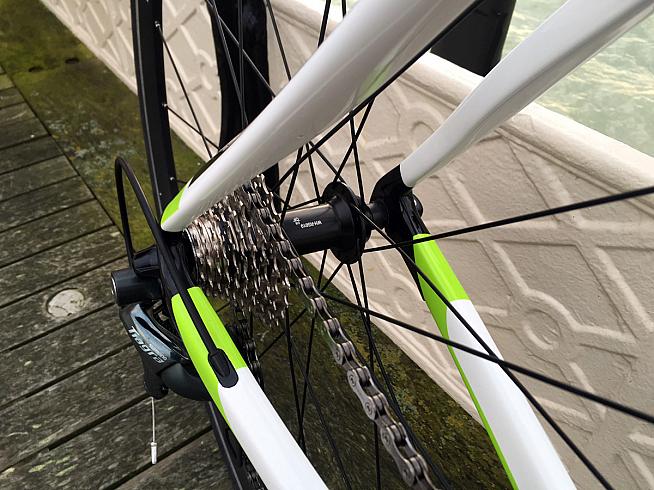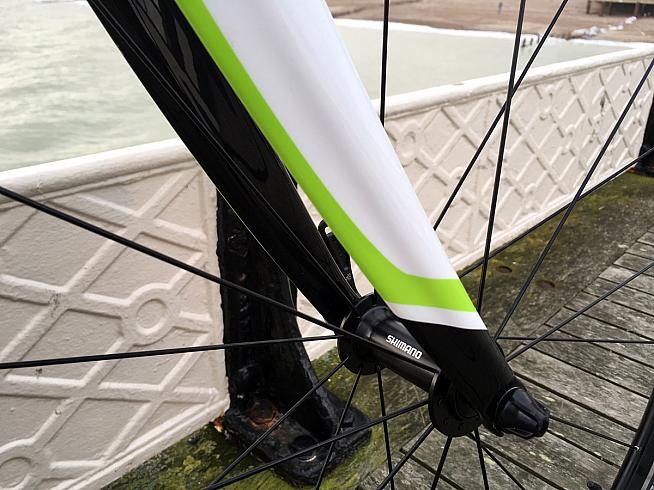 The beauty of course is that for newer cyclists, as you get accustomed to the road riding position or increase in flexibility, it's a simple matter to remove the spacers and lower the stem into a more aerodynamic, racier position.
That adaptability is welcome, because the Evo Pro is a quality frameset that will justify any later upgrades to, say, wheels or groupset for cyclists who catch the bug. The frame is even compatible with electronic groupsets if you wanted to run Di2 down the line.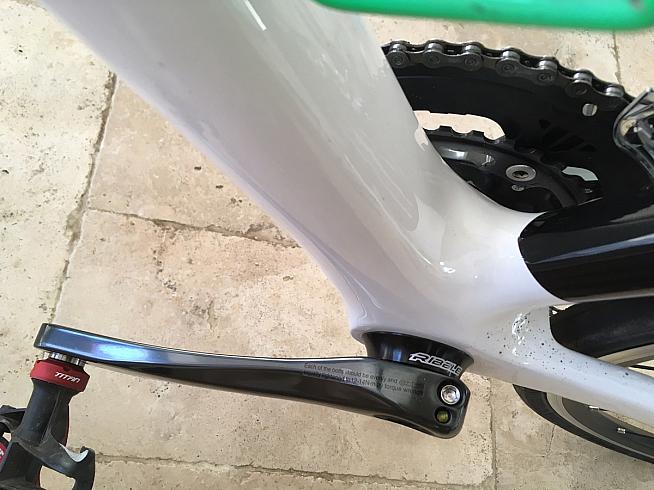 Ribble offer the Evo Pro in a range of customisable builds using their Bike Builder feature. We tested the recommended Shimano Tiagra 10-speed version. Sitting just below 105 in Shimano's hierarchy, Tiagra enjoys many of the technological benefits of its pro-level counterparts. While it gives away a little in weight and refinement to its pricier siblings, I was generally impressed with its performance.
Gear and brake cabling now runs under the bar tape to give the cockpit a sleek, uncluttered look, and once everything's tuned in, shifting performance is quick and reliable. I enjoyed Tiagra's relatively solid feedback when changing gears - even if the shotgun-like "kerchunk" of downshifts did tend to scare the crows.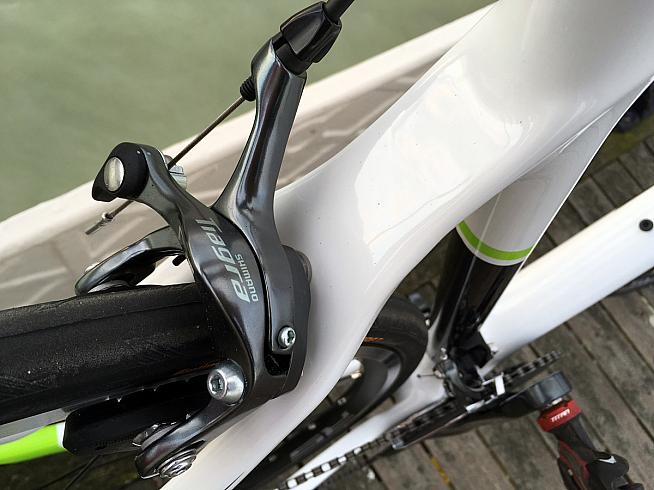 Wheels in this build are the sturdy and dependable Shimano RS010. It's an entry-level wheelset, but while new hoops may be an obvious starting point for upgrades, for winter riding they're ideal: solid and dependable, with semi-aero rims and a reasonable weight at a claimed 1848g.
Finishing kit from Italian brands Deda and Selle Italia is, again, of reliable quality and contributes to the Evo Pro's considerable kerb appeal.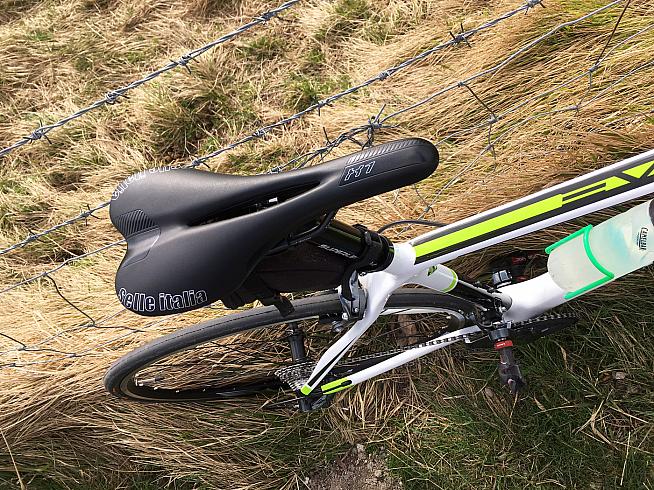 I tested the bike on the Puncheur sportive, a 65-mile early-season rite of passage through the wintry, debris-strewn lanes north of Ditchling in Sussex. In typically trying conditions of gusty wind, scattered showers, sulky skies and the occasional peek of bright sunshine, the Evo Pro coped admirably.
Handling is pin sharp, the bike darting nimbly around craters in the road surface at the flick of a wrist. After a winter of training on my 1980s steel bike, the stiffness of the frame was a revelation: the Evo Pro really seems to transmit every scrap of power from your legs into forward movement.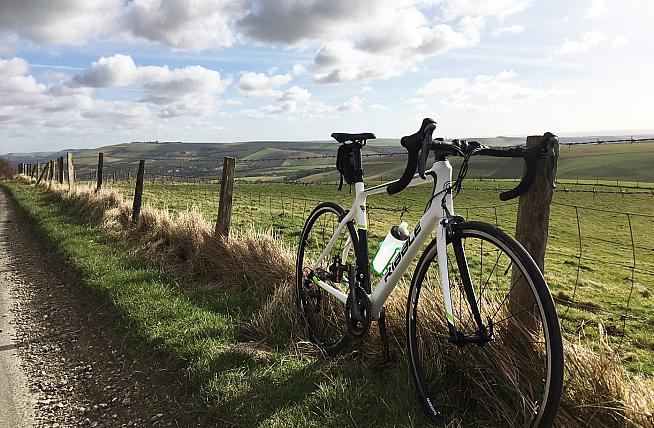 By the time I reached the final climb up Ditchling Beacon my legs were spent, but I can't blame the Evo Pro for that. It was a pleasure to pilot around the 65-mile course, and with its endurance-oriented geometry I can imagine happily tapping out all-day rides on the Evo Pro.
As a package, it's hard to find fault with the Evo Pro. Perhaps a wider range of size and colour options would be welcome? But the size small tested was a perfect fit for me at 5'9", and the glossy white paint job is certainly attractive - even if it does tend to show up road grime...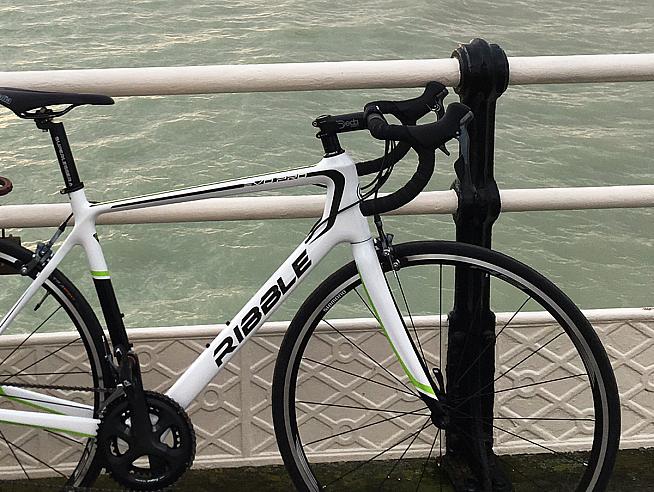 With the new Evo Pro, Ribble have really nailed the brief of creating an affordable, highly capable bike that offers a perfect welcome for riders new to road cycling. Add in Ribble's 30-day trial period and 6-year frame warranty, and you start to see why the Evo Pro has proven such a popular proposition.
If this is your first carbon road bike, you'll quickly see what you've been missing out on. And, with the Evo Pro's light weight, comfort, efficiency and smart looks, it's unlikely you'll want to go back.
Ribble Evo Pro, from £799 (£953 as tested) at www.ribblecycles.co.uk
0 Comments