Any takers for a pair of flash Oakleys? They fell off the back of a lorry - well, sort of. He's been towing me all morning...
We're 50km into the Haywards Heath Howler when Alistair, my ride buddy for the day, realises his Sunday best, US-import sunglasses are no longer in his pocket.
We pull over to speculate. Have they bounced out of his pocket somewhere along the maze of lanes behind us? Or did he set them down at the feed stop a few miles back?
Either way, it looks like those spendy shades are gone. It's enough to make a grown man cry - maybe that's why they call it the Howler...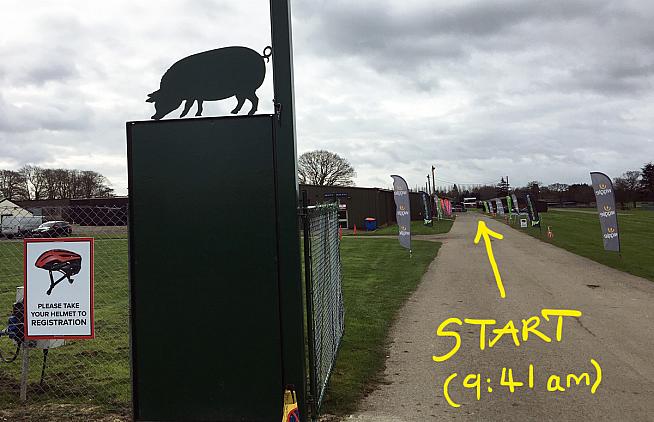 Alistair isn't actually in tears, but I still feel bad. I turned up 45 minutes late for our rendezvous at the South of England Showground, a significant enough tweak in The Plan to feel mostly responsible for the rest of the day.
What happened is I left late, and then my satnav took me the scenic route to the ride HQ, along the same back roads as the sportive was routed. Bloody cyclists, everywhere! A glut of wheelers on narrow, twisting lanes made for painfully slow progress in my automobile.
I met and passed what seemed like an endless stream of sportivistes, trundling in every direction like flush-cheeked wildebeest. Of course you have to try to look apologetic as you squeeze by, bike propped in the back seat of the car like a limp excuse: "Hey guys, I'm one of you... let go of my wing mirror?"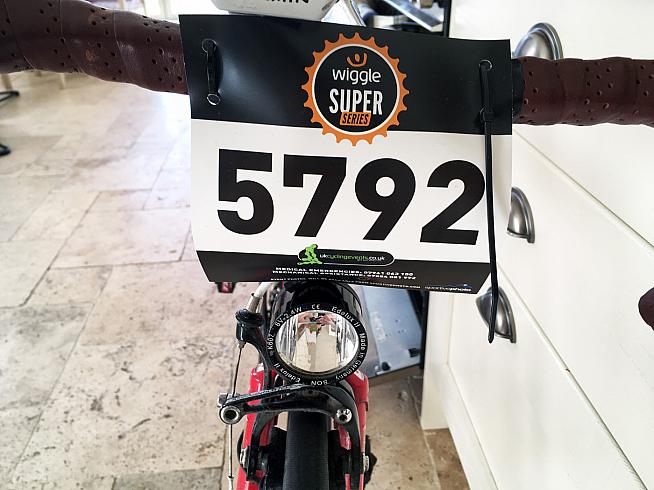 Still, Alistair was all smiles when I finally arrived. I'd missed registration, not for the first time, but the UKCE staff dug out a random rider pack for me from the packed crates. I pinned the 'tardiest in show' rosette to my bars with zipties, and we set off at a brisk trot.
Out on the open road, I can tell you we turned left and headed north towards Turners Hill, but after that I'm utterly lost. I've next to no navigational sense anyway, but the route for the Howler looks like it's been scribbled at random over a map by a two-year-old with a fistful of crayons.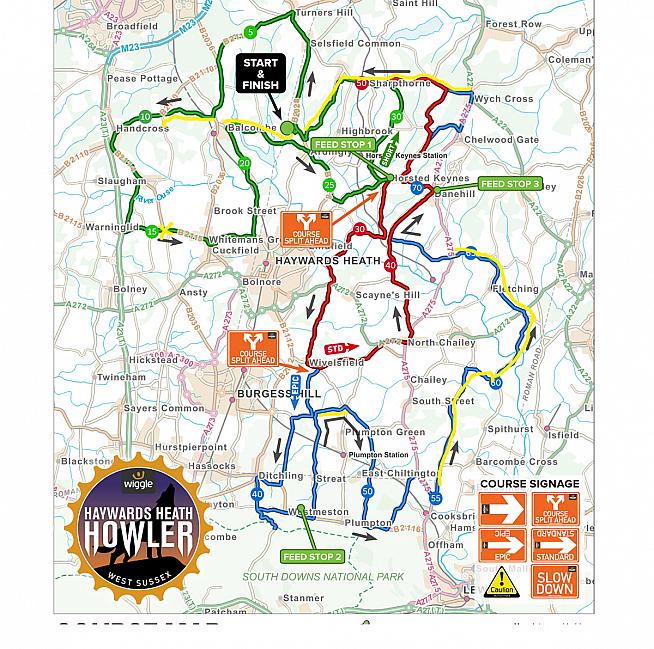 Almost every road looks familiar, and I've ridden most of them before - but the cunning lies in the way UK Cycling Events have finessed everyday ingredients to create a delicious sportive pie, with three routes that flow seamlessly from punishment to reward and back again for 35, 53 or 80 miles.
Alistair and I are riding the 53-mile standard route, owing to time constraints and also lack of fitness. Alistair has been running rather than cycling over the winter, so we agree a half century is a sensible way to start the sportive year - especially as the long route includes a detour south to climb Ditchling Beacon. I climbed the Beacon on the Puncheur last week, and it's not the sort of thing you want to overdo with Easter eggs still to come.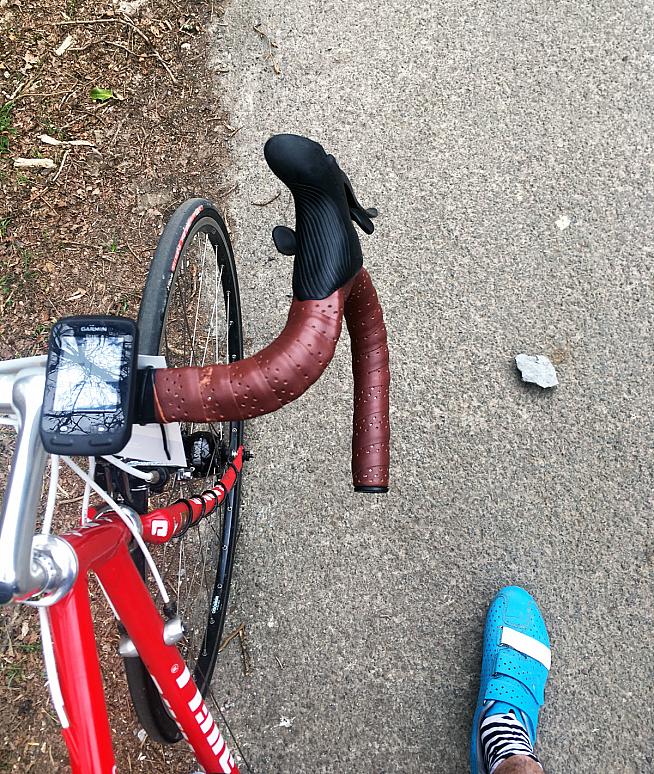 It's a blustery day, and I'm happy to let Alistair take more than his fair share in the wind over the opening miles. But it's still a bit early in the season for full gas, and after averaging 30kph for the first 45 minutes I'm relieved when we slow to a more sustainable pace.
There's a slight chill in the air, but apart from the wind and it being overcast, it's actually a fine day for cycling. The hedgerows are beginning to green up, and clouds of sloe blossom swirl in the breeze, drifting across the road like confetti.
While idly composing haikus to spring we also discover the reason for the multitudes of cyclists I spotted earlier. There are some non-standard red and yellow arrows along the route. It turns out another sportive, the Burgess Hill Springtime Classic, is taking place today nearby. It's a popular and well-established event and adds about 700 cyclists to the masses riding the Howler.
I'm not sure which of the two sportives can claim primacy, but I suspect it's the Burgess Hill Classic. Alistair reckons the Howler used to be an August sportive, brought forward to spring this year.
At any rate, the overlapping routes raise the exciting prospect of being caught in a sportive turf war. Or, for anyone failing to differentiate between the two events' signage, the equally thrilling possibility of being trapped in an infinite sportive loop orbiting Haywards Heath.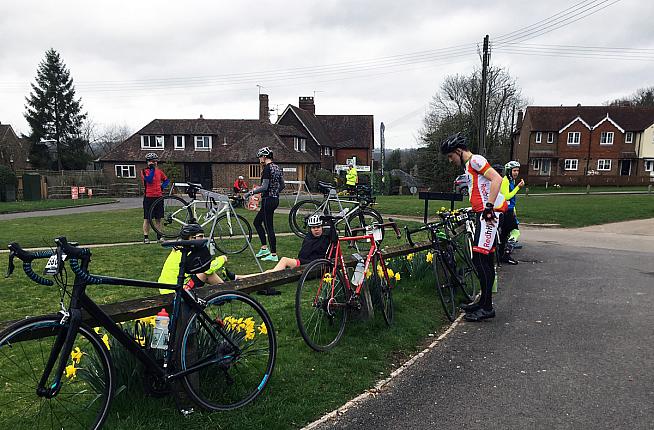 Nerves on edge at the jeopardy of the scenario, the first feed station at Horsted Keynes Club is a welcome sight. As we're refilling water bottles I explain, through mouthfuls of fig roll, about the obligatory feed stop photoshoot.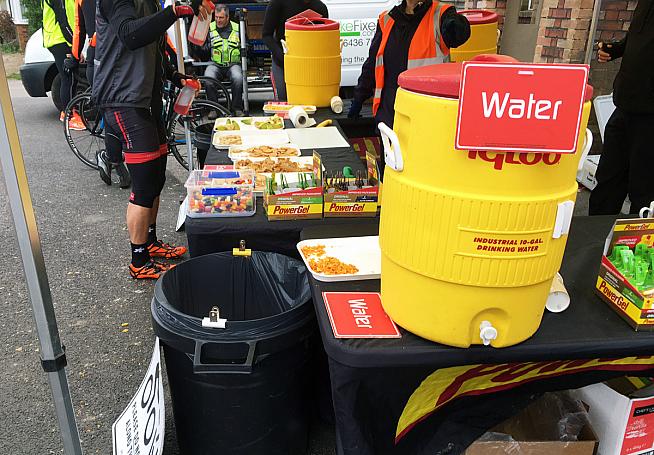 Of course, we have considered sending a photographer along to capture some action shots like you see in the glossy mags. But what's the point, when you can thrill instead to images of roadside marquees and men in Lycra cramming bananas into their faces?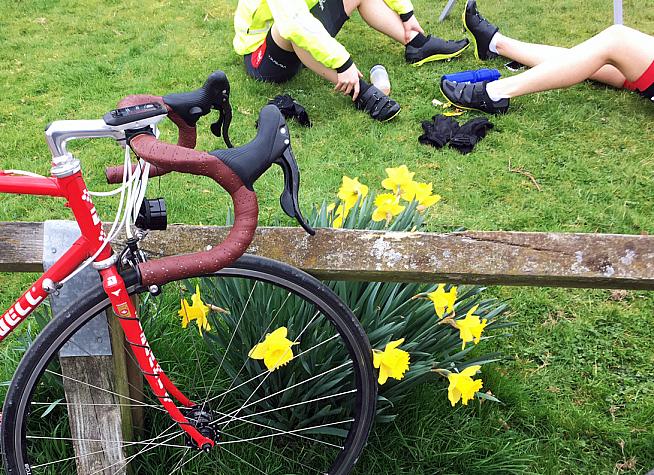 Photo duties done, we roll off again and after a few more short climbs we turn onto Slugwash Lane. "A clean slug is a fast slug," I chuckle to myself, deliberating whether to share my joke with Alistair.
I pull over to catch a photo of him cresting what is, in hindsight, not an especially photogenic hill, and it's when he draws up alongside me that we discover the missing Oakleys. I decide it's not the time for the slug joke
After brief deliberation, Alistair decides to head back to the feed stop to see if the shades have been found. There's only 30km left anyway, so I decide l'll crack on to the end alone.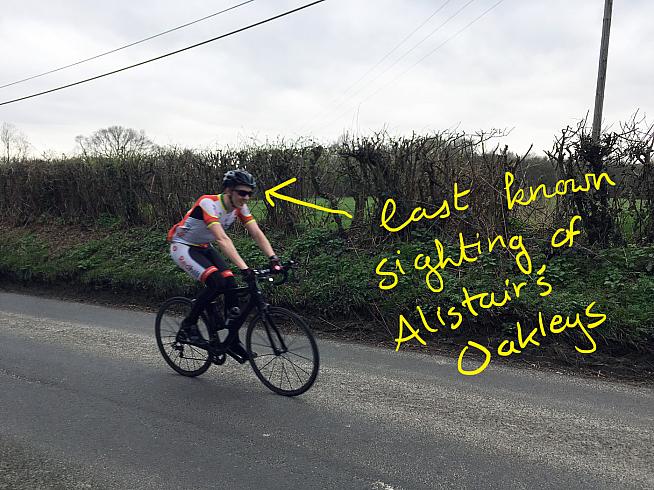 Alistair tells his Garmin Edge 1000 where he wants to go, and the clever little thing recalculates his route instantly, leaving me watching on like a neanderthal seeing fire for the first time. Until that point I'd been pretty happy muddling along with my Edge 510. This could be an expensive day for both of us.
The rest of the route is more of the same: picturesque lanes, the occasional rolling vista over the downs, legging it through sleepy Sunday villages, and of course the constant nagging dread that I'm going to be back later than promised. I wonder how many 'gold times' are inspired by sportivistes pushing their HR through the roof to make it home in time for a family lunch?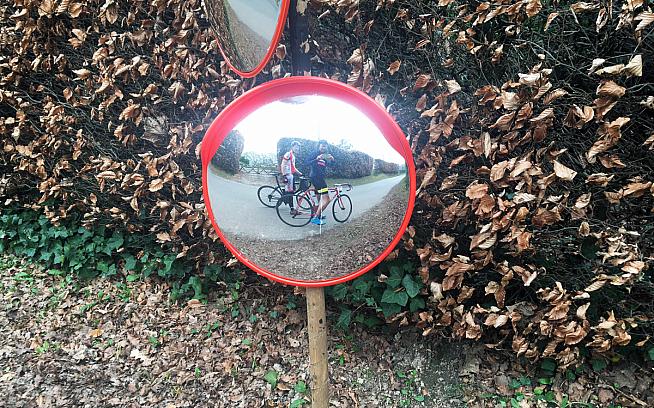 I stop for a banana in West Hoathly, not sure how much further I've got to ride (see earlier note re. navigational cluelessness). It turns out to be a total waste of a banana: I'm just 5km from the finish - but the organisers have added a cruel sting in the tail, with an ascent of Cob Lane literally within sight of the end.
I say 'literally', but you'd need a periscope to see the finish, because Cob Lane is like climbing out of a dank well; the road pitches up at a ridiculous gradient - over 45% in one section. I just about manage to stay on the bike, struggling to keep pace with the vanquished cyclists trudging up on foot. The autopause function on what I now realise is an obsolete Garmin kicks in with a contemptuous "are you even riding bro" bleep. It doesn't restart until I reach the top and spy the Showground lying just across the main Selsfield road.
I roll casually over the finishing mat to suspicious glances from the crew who saw me leave, supposedly on the epic route, just three and a half hours earlier.
Can I style it out? A mental image of my pale stick legs, retro steel bike, mismatched kit and haggard, snot-streaked face flits before me... I decide it's best to come clean about my route doping.
While history will remember this ride for the asterisk beside my gold time, the Haywards Heath Howler is a cracking sportive. With a well thought out route that's perfectly pitched for an early season challenge, it deserves to become a minor spring classic.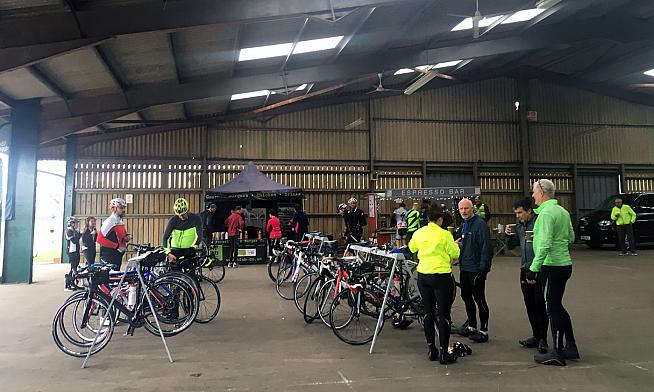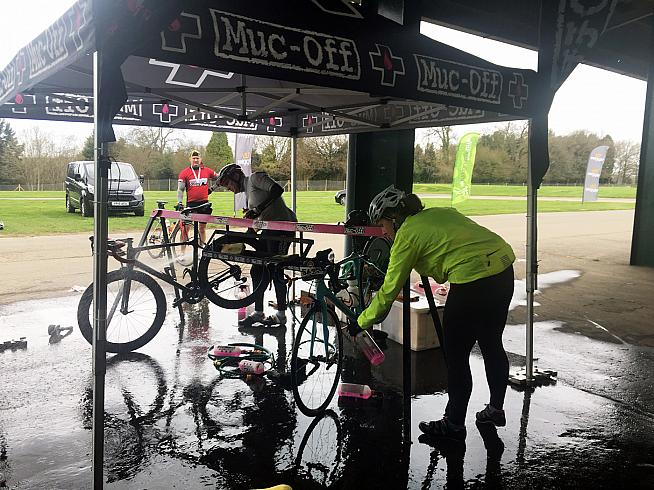 It almost gets boring saying it, but organisers UK Cycling Events have this business down to a tee; every one of their myriad events seems exceptionally well run, and you always feel in competent hands.
Even the goodybag - although it comes without an actual bag - is not entirely useless. I'm handed car snacks, fresh socks, and, most importantly, a medal to impress the kids - "Daddy's won again!" What more could you ask?
My only regret is that I somehow missed the splendid sight of Ouse Viaduct, which is rated as Hayward Heath's 4th best thing on Tripadvisor. The route passed right alongside it on Borde Hill Lane, and I'm slightly concerned that I didn't notice a 60-foot structure of 11 million bricks looming over my shoulder. On the other hand, it's not wearing any reflective clothing, so maybe it needs to take a look at itself before pointing fingers, yeah?
Oh, and my other only regret is Alistair's Oakleys.
Do get in touch if you happen to find them. There's a reward...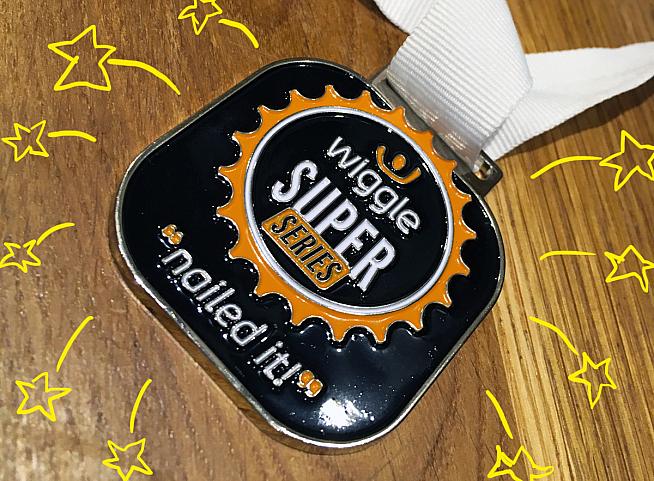 Haywards Heath Howler
Date: 19 March 2017
BIke: Duell Solo
Distance: 85.4km (Standard route)
Elevation: 1,394m
Riding Time: 3:10:35
Total Time: 3:29:29 (Silver)
Average Speed: 26.9km/h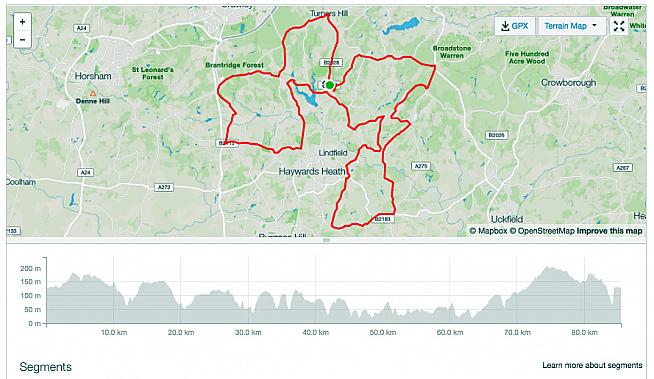 0 Comments