The London Bike Show returned to the Excel Centre recently, offering visitors a chance to get up close and physical with the latest kit from some leading cycling brands. We paid a flying visit on the Friday. There wasn't time to see everything, but here's a selection of highlights from the stands we managed to visit...
You can also check out more pics on our Facebook gallery from the show, which includes kit from Scott, Giant, Hackney GT - and my own bike, on a really high walkway over the docks next to ExCel.


Canyon
Sexy, sexy Canyon. I wonder if many Germans are bemused by the meteoric rise of this online bike brand - the way we might be if, say, Planet X or Ribble suddenly acquired fetish status on the continent.
Then again, Canyon's journey from dealing bike parts out of the back of a trailer to creating some of the planet's most desirable race machines is no fluke. Their top-level race models, the Aeroad and Ultimate CF SLX, have earned their plaudits the hard way, by winning races in the pro peloton.
The Canyon stand at the London Bike Show featured a fetching line-up of their current models. It's lethal discs with everything - their entire road roster is now available with rotors. That's cutting edge technology for you...
I'm not quite sold on the need for disc brakes on road bikes though - "ability to slow down reliably" makes practical sense, but just isn't the most compelling metric on a machine designed for pure, seat-of-your-pants speed. So the star of the show for me was the rim-braked Ultimate CF SLX.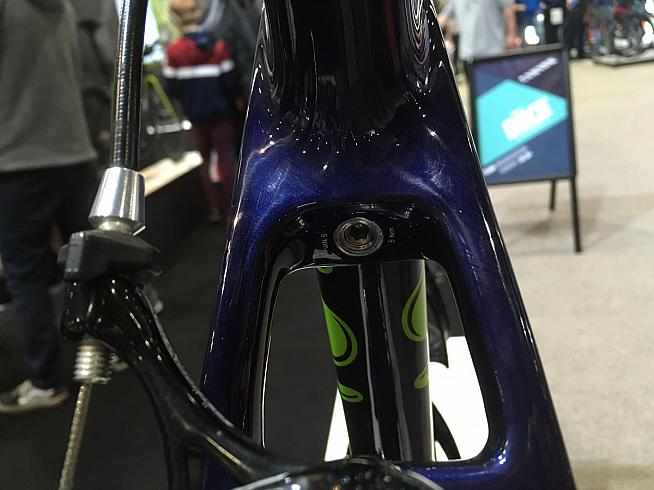 It was a toss-up between Alejandro Valverde's Movistar team edition and the new, 4.98kg Ultimate Evo for the 'best in show' rosette.
A small knot of weight weenies were gathered around the latter. We took turns lifting it with one finger, marvelling at the papery Lightweight hub flanges and general flimsiness of the build.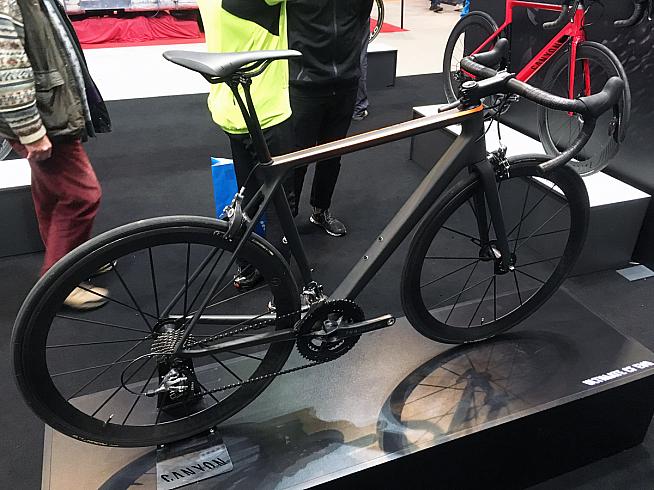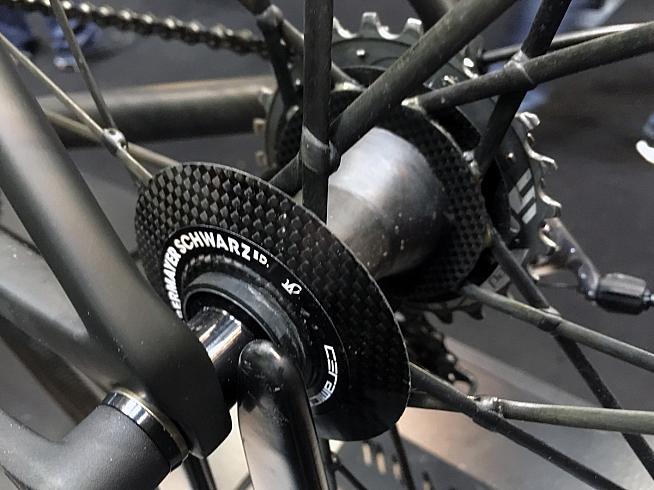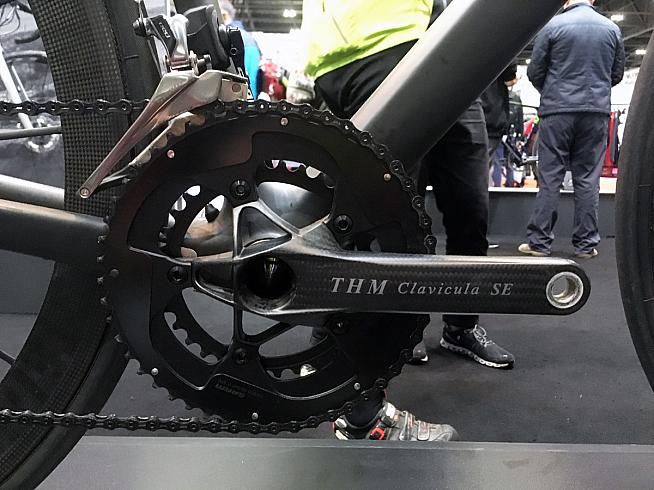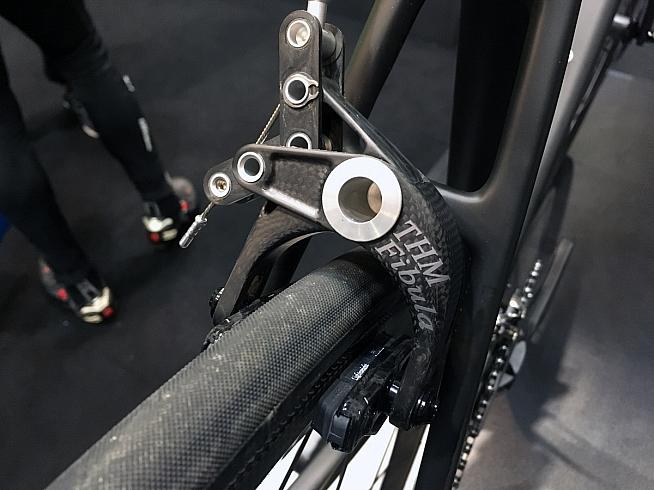 About to leave the stand, I bump into Canyon's UK marketing manager, Nick Allen. He spares a few minutes for a quick chat about Canyon's plans for 2017.
The good news, if you've recently bought a Canyon or are about to, is that the current line-up is now complete: no new launches are set for 2017.
I specifically asked about the Ultimate CF, which is the more affordable version of the Ultimate CF SLX. In previous years the only difference between the two framesets has been the grade of carbon used, which results in a few grams extra weight in the cheaper model. But the Ultimate CF SLX has since been revised, and now features a few upgrades - such as more aero shaping to the frame, and a redesigned seatpost clamp - that I suspect many potential buyers would like to see trickle down to the CF model.
Nick conceded that was the logical next step, but as far as he's aware we shouldn't expect it this year or even in 2018.
I also asked about plans to include telemetry, or a bike computer within the frame of the Aeroad - something that was teased at Eurobike a couple of years back. Again, this is not slated for imminent release. Canyon are constantly working on new concepts, Nick explained, but not all of these will make it to production. He didn't rule out onboard telemetry in future, but unless Canyon are keeping their cards very close to their chest, we won't be seeing it this year.
So, a case of what you see is what you get with Canyon. A good time to buy, if you're in the market, as their line-up looks unlikely to be updated in the near future.
Then again, since the show Canyon have launched a completely new range of children's bikes...so maybe take the above with a pinch of salt.
Tabor Saddles
A fetching display of beautiful leather saddles caught my eye. Tabor rep Paulo talked me through the brand's range of classic-looking leather saddles.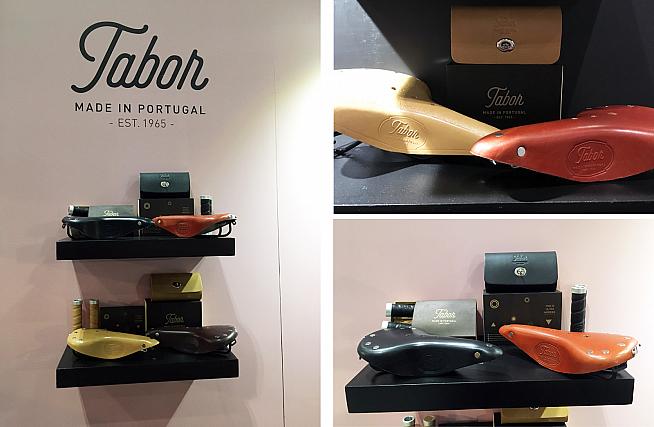 Tabor are a Portuguese company and they sell five different models of traditional sprung and unsprung leather saddles, with matching leather bar ends and saddle bags.
Some of the saddles are not exactly sportive-friendly, being designed for Dutch-style town or delivery bikes. Check out this fully sprung beast: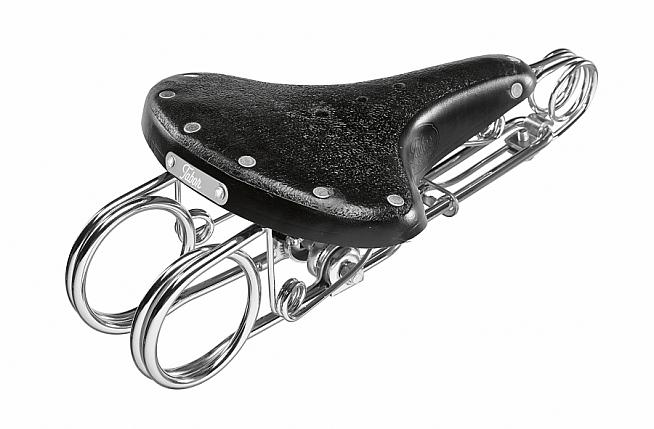 Aptly named the 'Heavy Duty', it weighs in at a whopping 2kg.
But Tabor also do a pared down City model. This saddle is reminiscent of the ubiquitous Brooks B17 (although a little more wallet-friendly, at €65). It'll look great on a classic steel bike or fixie. Paulo uses the City on his own bike and assures us it's very comfortable once it's broken in.
The saddles come in a choice of chromed or powdercoated rails, in five colours. The leather is coloured with eco-friendly dyes and the quality looks first-rate.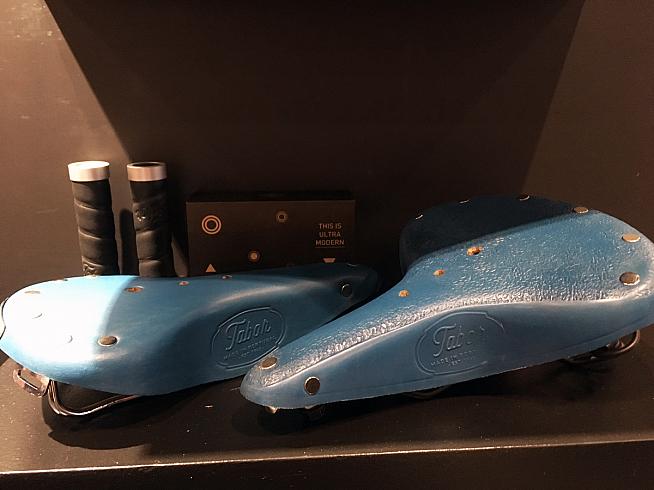 I must have been doing my impressed face, as Paulo's manager suddenly cuts in. After a brief exchange between the two in Portuguese, of which I understand not a single word, I find a video camera being pointed at me and Paulo asks for my impressions of the Tabor saddles.
I trust that footage will enjoy a brief life on the cutting room floor... But check out the rather elegant Tabor website, the saddles look splendid.
With any luck we'll have one in for review soon, so I can realise my dream of sending Andy off to ride L'Etape on a saddle that weighs more than his bike...


Fabric
Even if you haven't heard of Fabric, you'll likely have come across the brand's original line of Charge saddles. Charge Spoon and Knife saddles sold a (bike) shed load, with their winning combination of comfortable shape, low weight, classic looks and affordable price.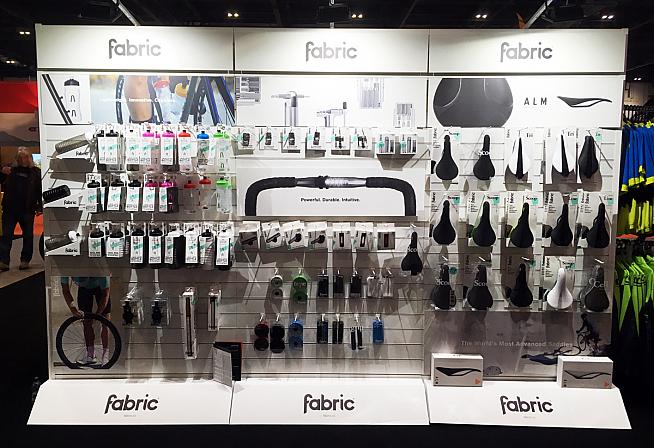 Fabric make some lovely and innovative saddles based on the popular Charge shape, but they haven't stopped there. While scoping out their cageless bottle holders I had a quick natter with one of their product designers.
The cageless bottle holders are a nice idea. If you haven't seen them yet, the design consists of two buttons that attach to the mounting bolts on your down tube. They come with a matching bottle with two grooves on it that slide onto the buttons, affixing your bidon to the bike without the need for a cage.
The benefits are a cleaner look and some weight saving. I was curious how practical the design would be in use - isn't it a faff to align the grooves with the mounts while riding at speed?
The Fabric rep compared it to cycling with SPDs for the first time; after the first ride it becomes second nature. Apparently the system is used by MTB riders without issue. And if they can do it...
I can confirm the bottles do clip in with a satisfying click.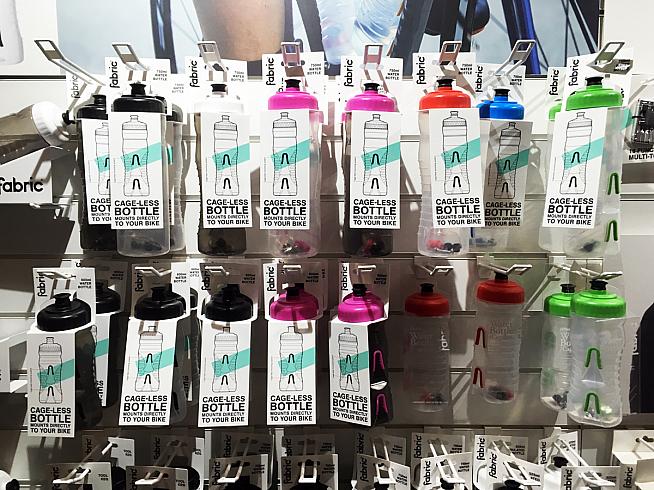 Apparently the design has also been improved so that the mounts are a little more rubbery rather than plasticky in feel; this was to increase the security of the grip, as bottles would occasionally bounce loose in the original design - if you were riding the cobbles of Flanders, say. The revised design certainly feels pretty secure once the bottle is attached.
Fabric also now produce some nice-looking track pumps, lights, grips, tape and tools, with further products in the works as they continue to expand the range.


Fat Lad At The Back
Fat Lad At The Back, or FLAB, are a UK-based clothing brand designed for cyclists with a more robust physique. I dropped by to say hi to co-founder Lynn, and immediately put my foot in it by describing  a Union flag patterned jersey hanging behind her as the 'Brexit special edition'.
Because Lynn has had it up to here with Brexit shenanigans. As owner of a smallish British company reliant on EU suppliers - Fat Lad's jersey are all manufactured in Italy - it's interesting to hear her thoughts.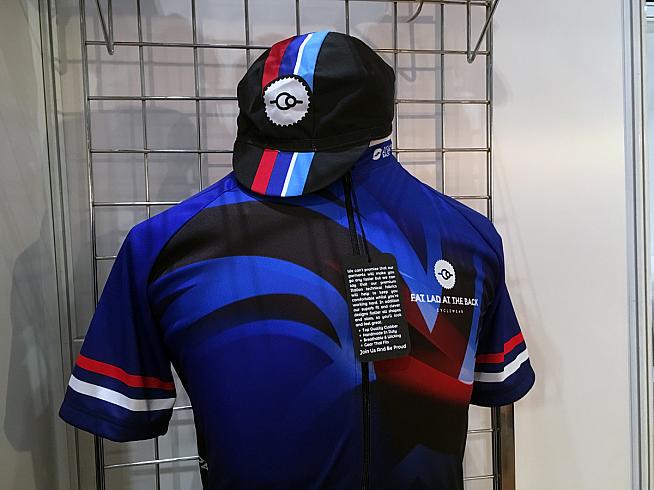 Apparently FLAB originally tried to find a UK manufacturer but were unable to, hence the Italian connection. Increased supplier costs are being absorbed by the brand and retailers for now, while the weak pound - which Lynn blames in part on media negativity - is not all bad news.
Fat Lad retail in nineteen markets; generally those that "get the sense of humour" behind the brand, Lynn explains, which tends to be countries where English is spoken or widely understood. Australia, the US and Scandanivia are all big markets, and perhaps it's this lack of reliance on UK sales that leads her to view Brexit as having pros and cons from a business perspective.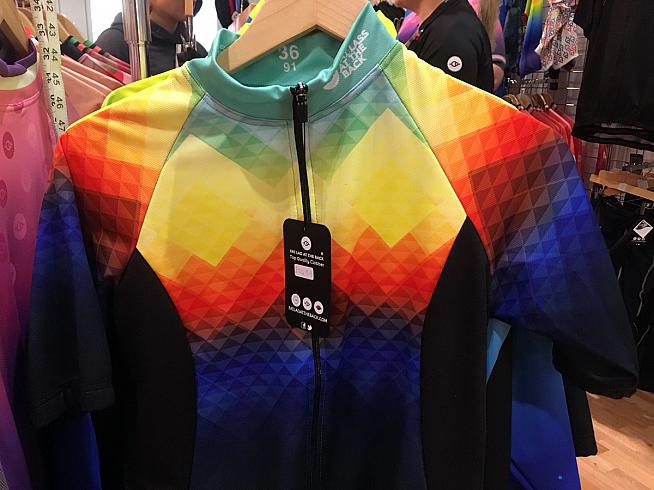 Anyway - the jersey that started this conversation is nothing to do with Brexit. A first foray into design by Lynn's husband and business partner Richard, it's a celebration of Team GB's recent Olympic success and general cycling excellence in recent years. So there.
Girona Cycling Festival
I visited Girona for the week-long Girona Cycling Festival last summer. It was easily among the cycling highlights of my year - and I didn't even arrive in time for the nocturne, or the hill climb.
The festival and granfondo returns this year, and once again many riders from previous years will be back - this is an event that attracts repeat custom, and for good reason.
The week-long festival centres around a laidback event village in Girona's historic, cobbled old town, literally in the shadow of the cathedral. Set out in any direction and you'll find endless miles of top-class riding: it's no surprise that so many pro cyclists make Girona their base.
Back at the race village you'll find good company gathered around smoking grills with local sausages, beers and other delicacies on offer, and fellow cyclists from around the world enjoying pre- or post-ride gossip in the shade of the trees.
The infectious enthusiasm of organisers Dave and Saskia and their staff is at the heart of the festival's success. Dave runs Girona Bike Breaks from a shop just a few streets away, and is firmly embedded in Girona's cycling scene with local knowledge to match.
I last saw him at the start line of last year's granfondo, so it's a bit of a surprise to suddenly see him here in the ExCel behind the Bike Breaks stand.
We hadn't actually had a chance to talk properly at the festival though. "Yeah, I'm always flat out during that week," he laughs when I introduce myself.
I ask about this year's programme. The hill climb and nocturne will all be there again he confirms, and asks what I thought of the granfondo itself.
"I loved it, but it was too easy - where was the Rocacorba!"
I'm half joking, but he tells me that in fact they had similar feedback from quite a few riders last year. So for this year, a climb of the nearby Rocacorba has duly been included as an optional loop in the granfondo. Here it is: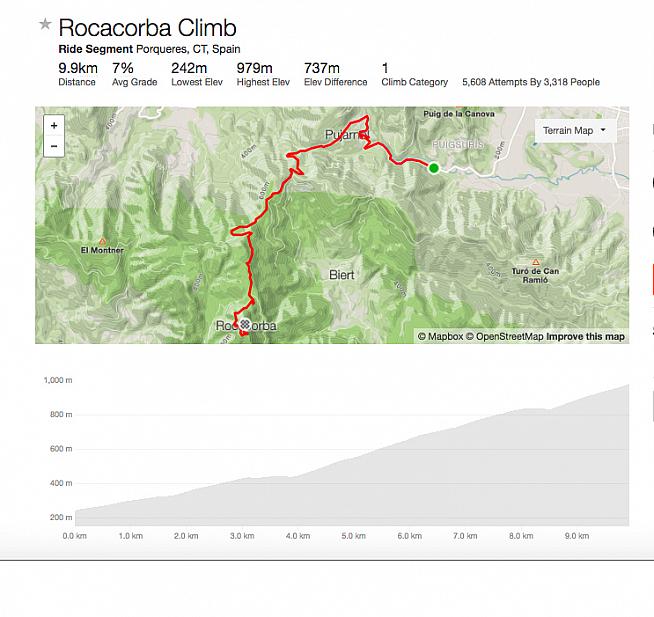 You can thank me later...
This year's Girona Cycling Festival takes place on 12-18 June. If you're looking for an unforgettable week of cycling in a beautiful location, put it at the very top of your list.


Cycology Travel
I'm pretty sure I've seen Cycology advertised in the cycling press - the play on words may be tenuous, but it sticks in the mind.
I called by the stand and discovered they aren't sports psycotherapists, but a luxury cycling holiday outfit based in Deia and Soller in the northwest of Mallorca.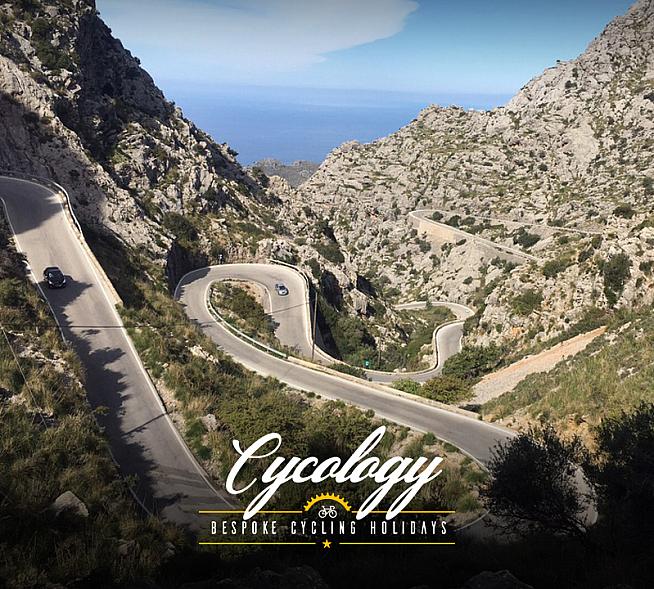 Cycology specialise in keeping non-cycling partners entertained while the cyclist gets on the colls: a large graphic on the stand shows a woman luxuriating in an infinity pool, washing her hair in a waterfall while her husband presumably is sweating up Sa Calobra. They provide access to exclusive hotels, concierge collection from Palma airport, have a fleet of high-spec Trek road bikes and partners with luxury private jet charter company Stratajet and ashmei for clothing, and generally act as high-class fixers for clients who want the best possible cycling holiday experience.
"We've just had a gentleman interested in booking his honeymoon with us," explained the rep, "he cycles but his fiancée doesn't..."
I just hope he's got a watertight pre-nup.
"Last year we had a lovely Australian lady stay with us," the rep adds. "She said she cycled a bit. Well! She absolutely skinned our guides - she's coming back again this year with a bunch of her friends from Australia."
After a few minutes chatting in similar vein we're joined by Cycology Director, Robert Bell. As a triathlete himself, Robert knows exactly what sports fanatics expect on a holiday. He hands me one of the more extravagant business cards I've seen in the trade, embossed with a glossy chainring and edged in a colour I'd describe as "maillot jaune".
Just as I'm considering booking a Balearic break, I hear the phrase "£600 a night hotel rooms" uttered. Maybe that card colour is "old gold" - it's my cue to beat a hasty retreat, but they're embedded in my mind for the future.
Long weekends with Cycology start at £1800 per person in the early season. So if you're looking to splash out on some upmarket pampering both on and off the bike, you now know where to go.


Lusso
"Did you email me last week?" asked the Lusso lady when I walk over. Well, maybe not last week, but yes I have emailed - thanks for ignoring it! That's the beauty of these shows, you get to pin down some of the cycling industry's more elusive characters...
But at the mention of Sportive.com, her accomplice chimes in. "Did you say sportives? I have an idea for a sportive..."
Simon Appleton is an old friend of Lusso founders John and Dorothy Harrison. He's also invented a sportive route, which he talks me through using the maps app on my phone.
I can't say much about it - sworn to secrecy - but it's an eighty mile route with four 500-metre climbs, in a part of the country that doesn't seem to have much sportive coverage at present...
We finally get to talking about Lusso kit itself, and lo and behold here's a brand that actually is produced in the UK - in Radcliffe, near Manchester. Word to FLAB - it can be done!
"Yes, well we thought of moving some of it overseas... but John's idea of far east production is Hull," cracks Simon.
Lusso's kit is streamlined into three ranges: your basic club-cut kit with standard features, an intermediate line with racier fit and more technical features, and finally the race range, with panels of aerodynamic fabric, exceptionally close fitting and designed for maximum regulation of temperature in race conditions.
The brand founder John is himself a former elite cyclist who raced against the likes of Sean Kelly (or was it Stephen Roche) back in the day. All their kit is road tested by Simon, who not only races but is also a cycle guide for Flyingeese.
Speaking of which, they're on the next stand. "I'll introduce you!" offers Simon - and off we go. I think it's called brand synergy?
Flyingeese 
Simon leads me over to the Flyingeese stand and introduces me to the owner, Jeff with the warning "He's only got a few minutes before he has to run for his train."
Luckily it doesn't take long to explain what Flyingeese do. Jeff owns a couple of luxury ("Well, I call them luxury - some may disagree") apartments on the Algarve, where he has lived for many years. Flyingeese lets these apartments to groups of cyclists, while also doing the cooking and providing experienced guides to take riders around the spectacular local mountains.
"It's based on skiing," explains Jeff, "where you go to a chalet and no one knows anyone, but you all socialise together and have a great time."
Each apartment houses up to eight guests, and I'd venture that Jeff is an exceptionally genial host. I left with a newfound desire to visit the Algarve, and I'll certainly be dropping by Flyingeese for some pointers if I get there.


Primal
Rushing to get my train, I stop by the Primal stand to say hi to James - the high-octane director who sometimes manages to find time to diarise his exploits for Sportive.com.
Unfortunately James is busy dealing with a couple of customers - but I manage to get a photo of his elbow while snapping a display of the current line-up of jerseys.
The new range looks big on colour and packs some bold designs.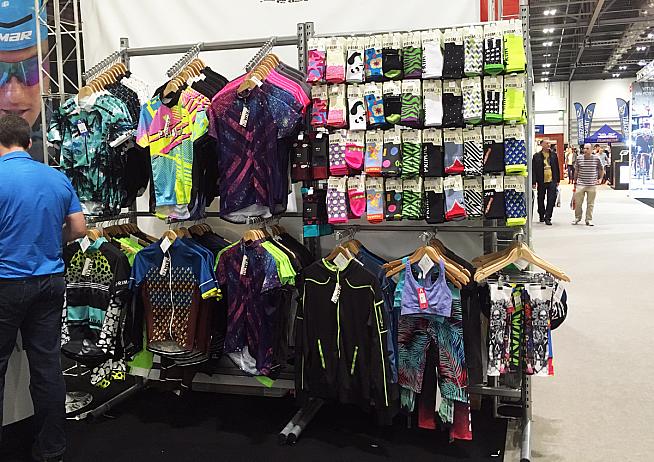 I still haven't found a rival to those zebra-striped Primal socks we got for Revolve24 last year. Lovely.
Parcours
Presiding over a rack of delicious carbon rolling stock, I meet Dov - the man behind Parcours Velo, who launched recently selling a range of carbon wheels in different rim depths.
Based in southwest London, Parcours currently offer three wheelsets: Grimpeur, Passista and Chrono, as well as a rear disc wheel.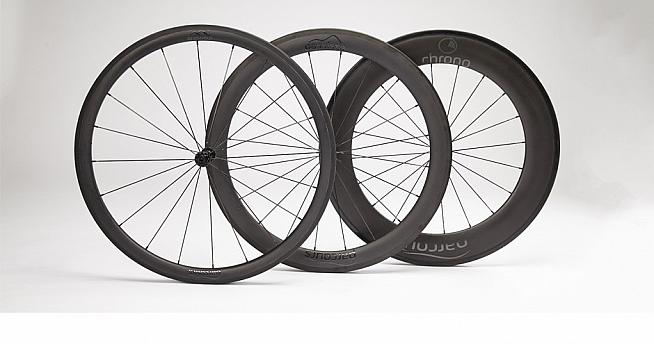 The rationale behind the brand is to offer carbon wheels that rival the big brands like Zipp, Reynolds et al for performance, at a price point that puts them within realistic reach of a wider range of cyclists. Parcours have travelled to China, spent time sourcing suppliers there to ensure a reliable product, and brought it to the UK market.
The 1465g, 38mm rim Grimpeur wheelset will set you back £749, the 56mm Passista (1650g) is £819, while the 86mm Chrono (1800g) are priced £889.
I've bought carbon wheels direct from China in the past, and generally been happy with them - OK so a pawl broke on last year's Tour of Flanders, but that's cobbles for you. I'm curious to know what sets Parcours wheels apart from those offered by brands like Far Sports, but Dov answers my question before I can ask it.
Yes, you could buy direct from China and get wheels that will be a bit cheaper and might be of similar quality. But what Parcours do is take on the risk; they have personally visited and vetted the suppliers, done the quality control, and back it up with a warranty and the security of buying from a UK company.
As for performance, Parcours have carried out wind tunnel testing of their wheelsets against leading big-name brands, and found they matched wheels costing more than twice as much. In fact, tested against Zipp 404 Firecrest wheels (RRP £1680), all four models of Parcours wheels outperformed the Zipps at zero degrees yaw (i.e. a direct headwind), while the Passista rims tracked the Zipp's performance almost identically at all wind angles.
They also look nicer than generic rims. The understated gloss-on-matte Parcours branding is very slick, and the finish on the rims does look quality. The wheels are also tubeless ready and UCI-approved.
All in all, it's a compelling argument.
We're hoping to get some Parcours wheels in for testing soon, so look out for a review.
Avantisbike
Slightly random conversation here. A bike that seemed to be painted in the livery of 'Team Weed' caught my eye, and while I'm dithering I get nabbed by Sergio the friendly rep. The stand belongs to Avantisbike, a Portuguese firm. It turns out they aren't in fact sponsors of a particularly sporty (and brazen) team of drug dealers - their line of trade is painting bikes, and the Weed frameset is just an example of their handiwork.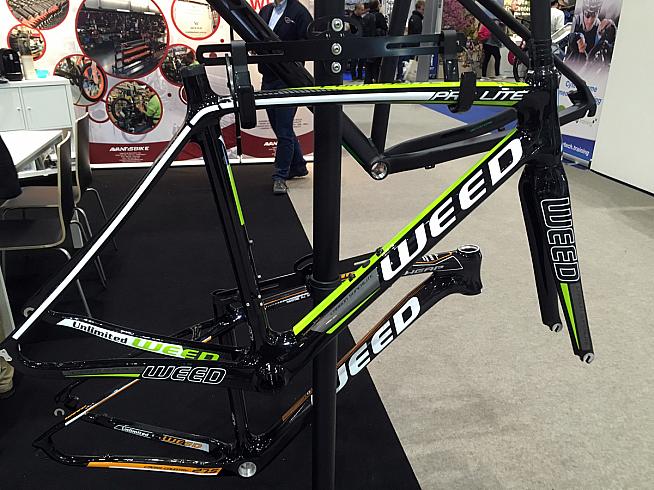 I learn that alloy or steel frames can be painted en masse in a line, whereas carbon frames can't - each one has to be painted individually. And Sergio is proud of the clearcoat that Avantisbike apply - apparently it's the same as that used by F1 teams like McClaren on their race cars.
Sergio demonstrates its toughness by attempting to scratch the bike with his fingernail - and then, more impressively, bashing a couple of sample tubes together. Not a mark, ladies and gentlemen!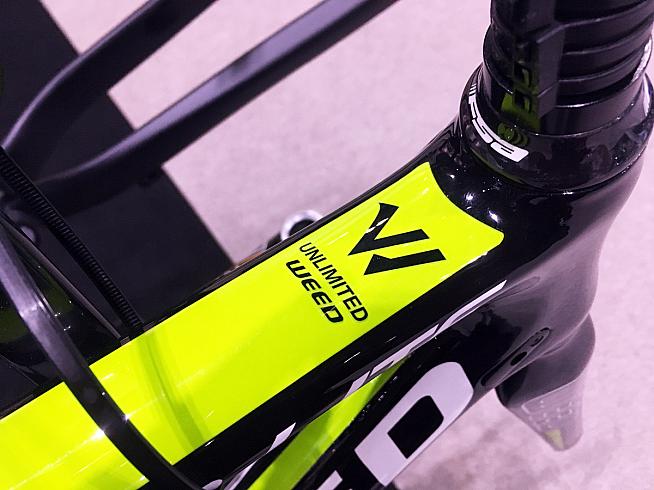 I finally discover that Avantisbike don't deal with the general public - which is a pity, as the price mentioned for a multi-colour paintjob of this quality seems excellent value.
But if you're a club or retailer desperate to have your bikes emblazoned with your love of weed - or anything else - then I'm sure Sergio will be happy to talk business.
Human Race
The best thing about these bike shows is bumping into people you know. Hurrying for the exit I hear my name, and look up to see Sam from Human Race.
Organisers of some of the country's most iconic sportives like the Dragon Ride, Human Race also seem to have the industry's best contacts book of current and former pro cyclists. Ben Swift, Dani King, Stephen Roche - you just never know who'll show up to a Human Race sportive.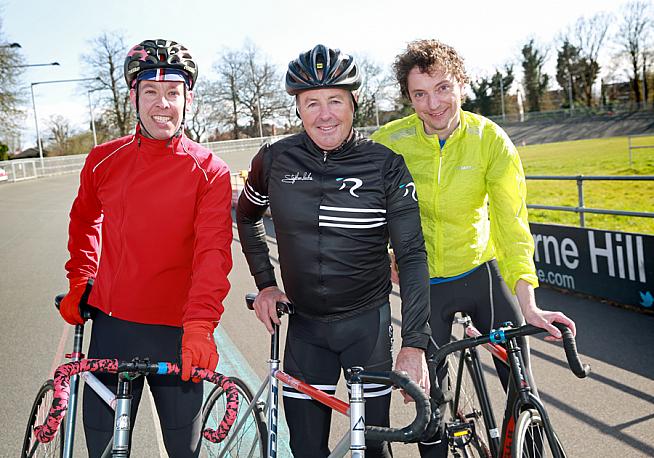 Sam mentioned a test ride for their Chiltern 100 Sportive that takes place in July, so look out for a preview soon.
In the meantime, entries are now open for L'Etape London - do head over to the Human Race website and check that out.
0 Comments